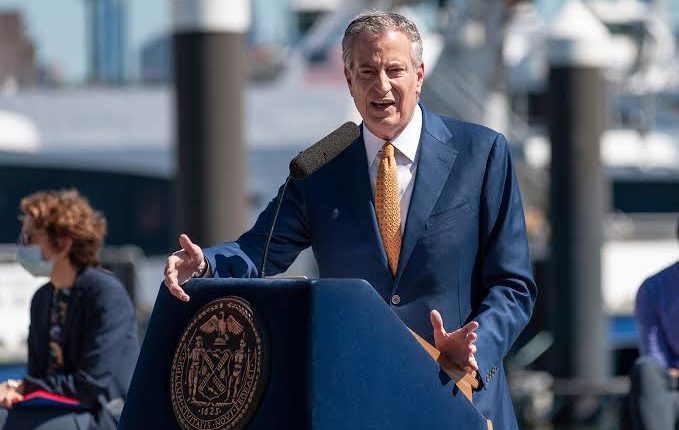 Mayor Blasio expands community-based primary healthcare in New York
Mayor Bill de Blasio of New York city on Tuesday June 9, 2020, announced immediate plan to expand access to primary healthcare providers through NYC Care.
Blasio, who partners Taskforce on Racial Inclusion & Equity co-chairs, First Lady Chirlane McCray, Deputy Mayor J. Phillip Thompson, Deputy Mayor Dr. Raul Perea-Henze, and Executive Director Grace Bonilla, stated that the program will offer neighborhood-based mental health services to communities of color that have suffered disproportionately during the COVID-19 crisis.
Blasio noted that the expansion was aimed at bringing affordable, quality healthcare to every New Yorker.
He added that Covid-19 had exposed the city's most painful disparities, including access to medical care.
"By expanding NYC Care, we are tackling these inequities head on, and bringing affordable healthcare and mental health resources to the communities that need them the most," Blasio said.
While commending the efforts of the Mayor, First Lady Chirlane McCray stated that in this time of economic uncertainty and civil unrest, it is essential to provide mental health resources and high-quality health care to communities of color to help stabilize families for generations to come.
"I want black and brown New Yorkers living in these communities to know that your city sees you and we will not rest until your neighborhoods are healthier, stronger, safer and fairer now and after this crisis," she said.
McCray noted that the Taskforce on Racial Inclusion & Equity would ensure that the city's hardest-hit communities enjoy an equity-based COVID-19 response and recovery.
She stated further that the Taskforce will remain involved in program implementation in the weeks ahead, continuing to leverage community voices that inform ongoing engagement and developing long-term strategies to support community health and safety.
According to her, the 300 responses gathered through the survey conducted by City Agency with community members, has revealed areas of the taskforce's work.
"The Taskforce on Racial Inclusion and Equity is committed to the work that all of us who serve have been committed to for decades.
"We hear our communities loud and clear, we need to do better to make sure that systems that are meant to serve New Yorkers are responsive today and always with the dignity and respect New Yorkers deserve," said Grace Bonilla, HRA Administrator and Executive Director of the Taskforce on Racial Inclusion and Equity.
By September, every New Yorker in the hardest-hit communities will have access to guaranteed health care through the expansion of NYC Care to Queens and Manhattan.
This includes hiring 26 providers to ensure a new primary care appointment within two weeks, public education materials, financial counseling services, and expanded pharmacy hours. New York City Health + Hospitals will also release a Requests For Proposals to engage community-based providers for community outreach and enrollment.
The program has already launched in the Bronx, Brooklyn, and Staten Island as part of the Mayor's Guaranteed Care commitment, offering quality health care services at low or no-cost to New Yorkers who do not qualify for or cannot afford health insurance based on federal guidelines.
The City will also open three COVID-19 Centers of Excellence (COEs) by September 2020 to ensure increased access to primary care in some of the neighborhoods hardest-hit by COVID-19 in Queens, Brooklyn and the Bronx.
To date, 22,705 New Yorkers have enrolled in NYC Care.