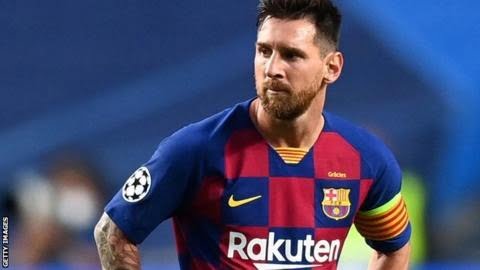 Messi can only leave Barcelona if €700 million is paid – La Liga
La Liga, Spanish football's main governing body has confirmed that Lionel Messi can only leave Barcelona if he pays €700 million (£624m/$823m) release clause.
The governing body also said that one alternative for Messi to leave the club is if a potential club negotiates a lower transfer fee with Barcelona.
While announcing on Sunday August 30, 2020, on its official website, the body said in a statement, "With regard to the various interpretations (some of which are contradictory) published by a number of media outlets in recent days in relation to the contractual situation surrounding FC Barcelona player Lionel Andrés Messi, after having studied his contract with the club, La Liga considers it appropriate to clarify matters.
"The contract is currently in force and features a release clause to be applied in the event that Lionel Andres Messi should decide to activate the early unilateral termination of the contract.
"In line with the regulations and procedures that apply in such instances, La Liga shall not proceed with the release required for the player to be deregistered from the Spanish Football Federation unless the aforementioned clause has been paid."
Meanwhile, last week, Messi requested to leave the Barcelona as a free agent, given that his contract allowed him to leave the club after the end of each season.
The football governing body said that Messi's contract with Barca remains valid until 2021 unless a potential club is able to pay the €700m buy-out clause or Barca is willing to sell him for less the amount.
However, Argentine's legal team are willing to argue the case as they believe that Messi should be allowed to leave the club considering the fact that the clause under consideration has expired in June and the 2019-2020 season was extended due to coronavirus pandemic.
Following his declaration to leave Barca, few clubs like Manchester City, Paris-Saint Germain, Juventus and Manchester United have made a move to have the six-time Ballon d'Or winner.
With his contract still in force until 2021, this means that Messi cannot leave Barca as a free agent even though he has expressed desire to stop playing for the club.