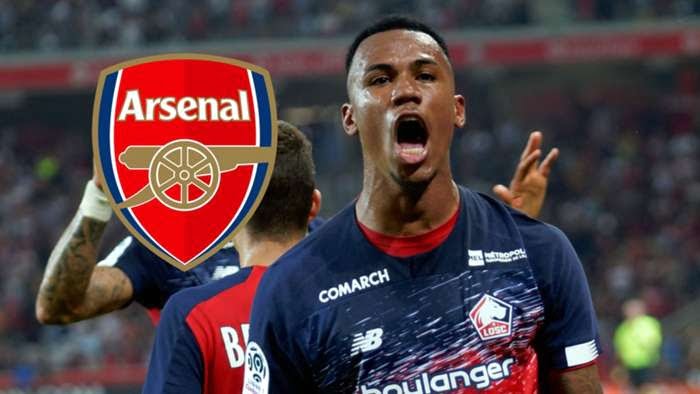 Gabriel from Lille strikes $33 million contract deal with Arsenal
Arsenal have announced signing of the Brazilian defender, Gabriel Magalhaes, from Lille on a five years contract worth $33 million (£25 million).
While confirming the signing on September 1, 2020, Edu, Arsenal's technical director said, "We are delighted to have signed Gabriel. He is a player we have been studying for a while and he was in demand from many clubs, so we are proud to have agreed and completed this transfer with Lille and the player.
"Gabriel is a player of high quality and Mikel and his coaches are looking forward to integrating him into the club."
Gabriel, 22, is the second signing to join Arsenal following Brazilian Willian who has joined the club from Chelsea on a free transfer.
Gabriel, who had snubbed interest from Napoli, Paris Saint-Germain and Manchester United, was in London last Monday when he traveled to Arsenal training ground to complete his transfer at London Colney under strict medical supervision.
He took part in the latest Coid-19 test of the squad.
Since his arrival, Gabriel has been in quarantine and would have to self-isolate before joining his new teammates at the club.
While speaking about the new signing, Mikel Arteta, the club's boss, said, "We welcome Gabriel to Arsenal. He has many qualities which will make us stronger as a defensive unit and as a team.
"He has proved with Lille that he is a defender with many outstanding attributes and we are looking forward to watching him grow as an Arsenal player."
Gabriel, who is expected to be one of Arteta's boosts, expressed his excitement of becoming an Arsenal player.
"Edu and I had several chats about Arsenal and the new project, we had many good conversations," he said.
Expressing his excitement further, he said, "As the days went by I was getting very excited about it, then I had a call from the coach and that was very reassuring.
"Having the coach himself calling you to say he wants you in his squad motivates you a lot. That is the very reason I am here today.
"We did not talk about details, he just told me he is aware of my quality, my capacity and how far I can go. He also said he will be very demanding with me.
"I know he is a great coach and I will make progress with his help."