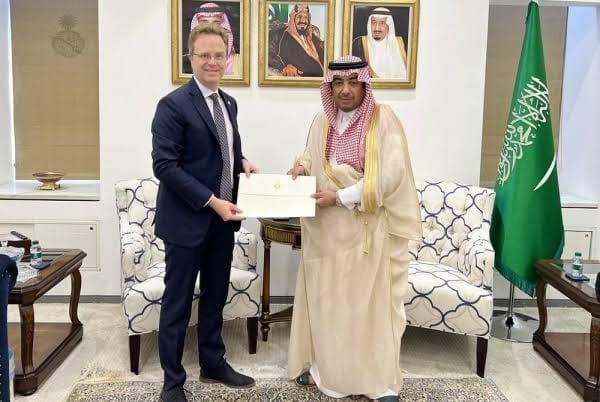 New Canadian envoy to Saudi Arabia presents credentials
Canadian Ambassador-designate Jean-Philippe Linteau formally presented his credentials to a senior official at the Ministry of Foreign Affairs in Riyadh, Saudi Arabia on Friday, marking an important step in the restoration of diplomatic relations between the two countries.
In a ceremony held in Riyadh, Deputy Minister for Protocol Affairs Abdulmajeed Al-Smari received a copy of Linteau's credentials on behalf of Saudi Arabia's Minister of Foreign Affairs, Prince Faisal bin Farhan. This gesture signifies the official recognition of Linteau as Canada's Ambassador to Saudi Arabia.
The Canadian government appointed Linteau as its new envoy to Saudi Arabia following the recent reestablishment of diplomatic ties between the two nations in May of this year. This decision followed a significant discussion between Crown Prince and Prime Minister Mohammed bin Salman and Canadian Prime Minister Justin Trudeau, which took place during the Asia-Pacific Economic Cooperation (APEC) summit in Bangkok in November 2022.
The restoration of bilateral relations comes after Saudi Arabia had severed diplomatic ties with Canada in 2018, following a dispute between the two countries. The new appointment of an ambassador indicates a positive step forward in rebuilding and strengthening the diplomatic relationship between Canada and Saudi Arabia.