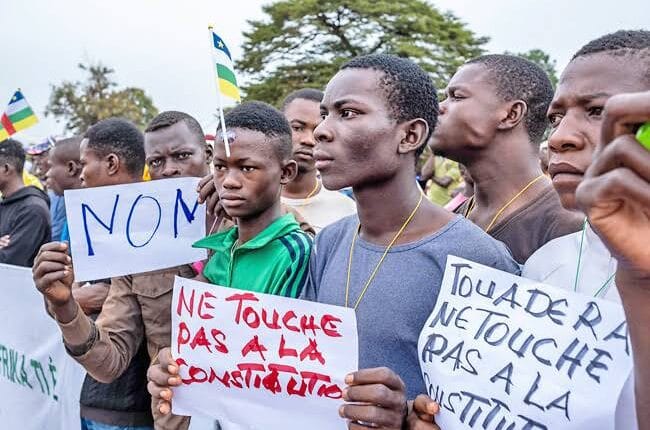 Protest march in C.Africa over constitutional change
Hundreds of people on Friday braved a ban to join a protest against plans for a constitutional change that will enable troubled Central African Republic's president to bid for a third term in office.
Opposition leaders headed a march of around 500 people through the capital Bangui under heavy escort from the CAR security forces and armored vehicles deployed by the United Nations' peacekeeping mission MINUSCA, AFP journalists saw.
Voting is due to take place on July 30 for proposed changes to the CAR's constitution.
If approved, it would mean that two-term limits set by the constitution would be reset to zero, enabling President Faustin Archange Touadera to vie for another term in office, according to his supporters.
Landlocked, mineral rich but deeply poor, the CAR is one of the world's most turbulent countries.
Touadera was first elected in 2016 as the country, with French and UN help, emerged from a civil war that flared along sectarian lines following a coup.
Violence continues today, although at far lower levels, and parts of the country remain under the control of rebel groups.
Touadera was controversially re-elected in 2020 after a vote that was severely criticized for its low turnout — less than one in three of the electorate cast its ballot, mainly because of intimidation in rebel-held areas.
The march, organized by an opposition coalition called the Republican Bloc for the Defense of the Constitution (BRDC), was declared banned on Thursday.
The interior ministry cited CAR's "security situation" and the "subversive nature of the initiative taken by the BRDC and others."
Judicael Kongbo, a 39-year-old storekeeper who joined the march, said, "If we don't demonstrate, we will be accomplices in the country's destruction.
"The president is only thinking about his own power. He's already done seven years — what has he done that's so extraordinary that entitles him to seek another term?"
Former prime minister and opposition MP Martin Ziguele said, "Touadera wants to become a king who is accountable to no one… that's why we reject and we oppose this referendum process, which is nothing but a political scam."
©️ Agence France-Presse