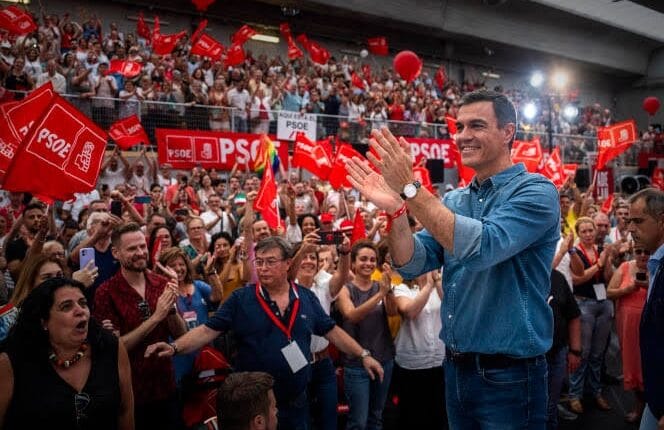 Spain campaign draws to close ahead of Sunday vote
Spain was wrapping up its final day of campaigning Friday ahead of Sunday's snap election, with Prime Minister Pedro Sanchez telling voters his Socialists were closing the gap with their right-wing rivals.
Final opinion polls allowed under Spanish law that were published on Monday tipped the right-wing Popular Party (PP) to win the most seats but without securing a working parliamentary majority.
That could force the PP to form a coalition government with Vox, in what would be the first time a far-right party holds a share of power in Spain since the end of the Franco dictatorship in 1975.
But the PP's campaign has stumbled in the final stretch with its leader Alberto Nunez Feijoo facing renewed questions about his ties with notorious drug trafficker Marcial Dorado back in the 1990s when he was a senior official in the regional government of Galicia.
And he was also caught out over incorrect claims during a TV debate that the PP has always approved pension hikes.
"I see the Popular Party as running out of steam while the Socialists are making a comeback," Sanchez told public television on Friday morning, expressing confidence his party would win.
Earlier this week, Sanchez laid into Feijoo for "missing an opportunity to clarify the nature of his relationship" with Dorado, a tobacco smuggler who was later convicted of drug trafficking.
In 2013, El Pais newspaper published photos of the pair on Dorado's boat and on holiday in Ibiza and the Canary Islands when Feijoo headed Galicia's health service.
Sanchez, who holds his final rally in southern Madrid on Friday night, has mocked Feijoo's claim that Google did not exist at that time, meaning it was difficult to know what Dorado was up to.
The prime minister has centered his re-election campaign on his economic record, highlighting Spain's growth and inflation figures that have outperformed most of its EU peers.
While most final polls suggested the PP and Vox are on track to form a working majority in the 350-seat parliament, some showed the pair falling short.
That would give the Socialists a chance to form another government because they have more options to create alliances with the far-left Sumar alliance and other smaller parties.
But analysts said they could not rule out the possibility that neither side could secure a working majority, which would force a repeat election as happened in 2019.
In office since 2018, Sanchez called the early election after his Socialist party and its far-left coalition partners suffered a drubbing in May's local and regional elections.
Feijoo, who will hold his final rally in Galicia, told Friday's El Mundo newspaper that he "sensed a wind of change" in the country.
He has vowed to undo many of Sanchez's laws, including one which allows anyone 16 and over to change their gender on their ID card on the basis of a simple statement.
Feijoo also lashed out at Sanchez over his remarks about Marcial Dorado.
"I did not expect the prime minister would use this rubbish to try to discredit his opponent," he told COPE radio.
The PP and Vox have attacked Sanchez's minority coalition for relying on the votes of Catalan and Basque separatist parties to pass legislation, denouncing it as a "betrayal" of Spain.
Sanchez, meanwhile, has attacked the PP for forming local and regional alliances with Vox, which opposes abortion, denies climate change and rejects the need for government efforts to tackle gender violence.
Since the May 28 elections, Vox is now in power in more than 140 municipalities — either alone or in conjunction with the PP — and also jointly governs with the PP in two other regions.
©️ Agence France-Presse