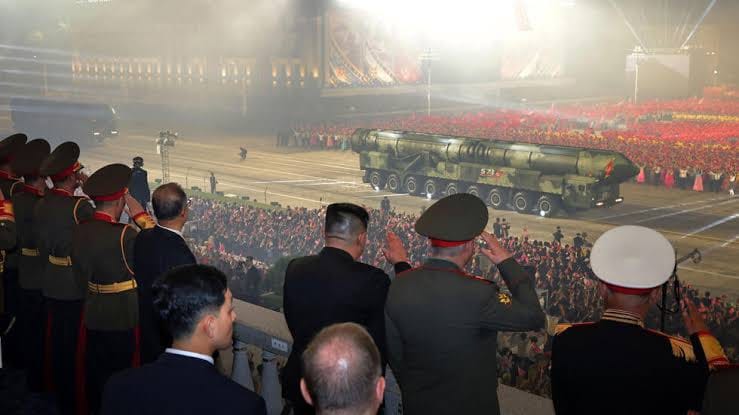 Kim oversees N. Korea military parade showcasing new drones, ICBMs
Flanked by visiting Russian and Chinese officials, Kim Jong Un oversaw a North Korean military parade featuring new attack drones and Pyongyang's nuclear-capable intercontinental ballistic missiles, state media reported Friday.
Standing between Russian Defense Minister Sergei Shoigu and Chinese politburo member Li Hongzhong in the VIP viewing stands, Kim smiled and saluted as thousands of soldiers marched past, trailed by the country's most powerful ICBMs, which are banned under UN sanctions.
The event, featuring Kim's first known foreign guests since the start of the Covid-19 pandemic, was to mark the 70th anniversary of the Korean War armistice, which ended open hostilities and is celebrated as Victory Day.
Kim "extended warm militant greetings" to the parade, the official Korean Central News Agency said, and video broadcast by KCTV showed hundreds of soldiers marching through Kim Il Sung square carrying portraits of North Korean war veterans.
Speaking at the event, defense minister Kang Sun Nam said the United States had no chance "of survival in case they use nuclear weapons" against the North.
"Now, the question is not if a nuclear war will occur on the Korean Peninsula, but rather who will start it, when and how," he added, according to KCTV footage of his speech.
Pyongyang routinely uses strong rhetoric to lambast US military deployments to the peninsula, and Kang said the North would act "if they attempt military confrontation as now".
The parade featured an array of new weaponry, including unmanned military drones first unveiled at a Pyongyang defence expo on Wednesday that was visited by Kim and Shoigu.
North Korea's new underwater nuclear attack drone, called the "Haeil", also appeared at the parade for the first time, Seoul-based specialist site NK News reported. Pyongyang claims the weapon can travel underwater for hundreds of kilometers before being detonated under a target.
But the "excitement and great joy of the spectators reached its height" when the nuclear-armed country's newest ICBM — the solid-fuel Hwasong-18, tested in April and July this year — was paraded through the square, KCNA said.
Experts said the presence of Chinese and Russian officials at the event showcasing Pyongyang's banned weaponry was striking.
"This is the largest, most overt North Korean display of nuclear-capable systems with foreign officials (in this case, from Russia and China) present," US-based analyst Ankit Panda wrote on Twitter, which is being rebranded as X.
"The message is clear: Kim has the backing of two powerful regional partners" who are both permanent members of the United Nations Security Council, he added.
The parade serves a key function domestically of "promoting Kim Jong Un's ruling legitimacy and internal unity in this economically challenging time", Yangmo Ku, a political science professor at Norwich University, told AFP.
The inclusion of high-level guests from Moscow and Beijing hints at "the emergence of the new Cold War surrounding the Korean Peninsula", Ku added.
It was notable that China chose to send a civilian representative — who did not visit the defense expo — whereas Moscow sent their defense chief, said Artyom Lukin, a political science professor at Far Eastern Federal University.
It was likely "deliberate signaling by Moscow that it is ready to expand military cooperation with North Korea", he told AFP.
Beijing is North Korea's most important ally and economic benefactor, their relationship forged in the bloodshed of the Korean War in the 1950s.
The fact a Chinese official was present "at North Korea's parading of nuclear-capable missiles raises serious questions about Beijing enabling Pyongyang's threats to global security", said Leif-Eric Easley, a professor at Ewha University in Seoul.
Russia is also a historic ally, and Kim has been steadfast in his support for Moscow's invasion of Ukraine, including, Washington says, by supplying rockets and missiles — a charge Pyongyang has denied.
According to KCNA, Russian President Vladimir Putin sent a speech, read out by Shoigu at an anniversary event, in which Moscow's leader hailed North Korea for its "firm support for special military operations against Ukraine".
Easley said that "given Russia's need for ammunition for its illegal war in Ukraine and (Kim's) willingness to personally give the Russian defense minister a tour of North Korea's arms exhibition, UN member states should increase vigilance for observing and penalizing sanctions violations".
©️ Agence France-Presse