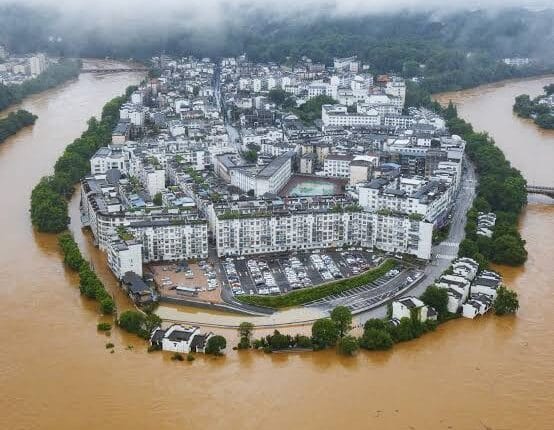 China floods threaten downstream cities as thousands evacuated amidst devastating Storms
In the wake of Typhoon Doksuri's remnants passing through Beijing, China, the country faces severe floods and heavy rainfall, endangering downstream cities. As a result, tens of thousands of people have been evacuated from high-risk areas in the northeastern region.
Hebei province, which surrounds Beijing on three sides, issued alerts for several cities as 13 rivers in the Haihe River Basin, including Beijing, Tianjin, and Shijiazhuang, exceeded warning levels. In response to the looming threat, approximately 42,000 people were evacuated from Shanxi province to Hebei's west. The situation is equally concerning in Heilongjiang, the grain-producing province to the north, where entire villages are being evacuated in anticipation of potentially life-threatening deluges.
Powerful convective weather, including heavy precipitation, thunderstorms, and strong winds, is forecast for Heilongjiang, with the province also facing "very high" risks of secondary disasters such as mountain torrents and waterlogging in urban, rural, and farmland areas.
As the floods continue to wreak havoc, local authorities in various regions are taking swift action. In Zhuozhou, southwest of Beijing, 125,000 people from high-risk areas were moved to shelters, while in Tianjin, a port east of Beijing, 35,000 people were evacuated from near the swollen Yongding River.
The gravity of the situation prompted Chinese President Xi Jinping to issue a directive, urging local governments to prioritize rescue efforts and minimize the loss of life and property damage. So far, the floods have resulted in at least 20 fatalities in Beijing's outer suburbs, with 27 people still reported missing due to the weekend storms that overwhelmed drainage systems.
Since Saturday, some areas have witnessed rainfall as heavy as 500mm (almost 20 inches), while others reported up to 90mm (3.5 inches) of rainfall per hour. These extreme weather conditions have led to power outages, suspended public transport, and disruptions to daily life for over 20 million citizens in Beijing.
The devastating floods compound existing challenges, as other parts of the country struggle with drought, impacting food supplies for China's vast population of 1.4 billion people. Additionally, disruptions in grain shipments resulting from Russia's war against Ukraine have further strained the nation's food security.
Prior to this disaster, the country had already experienced fatalities and evacuations due to floods in various regions, including Chongqing, Liaoning, and Hubei provinces. As the situation unfolds, authorities are working tirelessly to manage the crisis and ensure the safety of affected communities across the country.