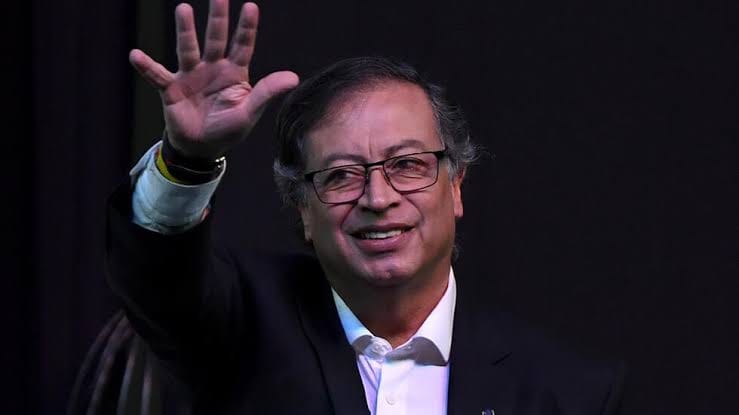 While Colombian farmer Crisanto celebrates finally getting the deed to his land, widow Yaneth believes an increased laxness in security contributed to the murder of her policeman husband.
One year after Gustavo Petro became Colombia's first left-wing president, the country is as polarized as ever, with his successes overshadowed by corruption scandals and persistent insecurity.
Petro, 63, came to power vowing to shake up a country long ruled by a conservative elite, and dogged by massive social inequality and decades of armed conflict with armed groups and drug traffickers.
He launched an ambitious plan to negotiate with a variety of armed groups — guerrillas, paramilitaries, and criminal gangs — in his quest for "total peace," signing various ceasefires, some of which later collapsed.
"Petro's arrival created very high expectations, people imagined that everything was going to change and disappointment is deep," said Eugenie Richard, an analyst at the Externado University.
The president's popularity has plummeted to 34 percent, according to a June poll.
Petro's main support came from the marginalized and the youth, drawn to his promises to tackle hunger and inequality, and his grassroots supporters still believe he can transform the country.
One area where he has made gains is in tackling the country's historic battle with unequal land distribution — an issue at the heart of the country's six decades of armed conflict. The FARC rebel group was initially formed to fight for land rights and protect poor rural communities.
Over subsequent decades, the conflict drew in paramilitary groups and state forces in what became a many-sided war fueled by drug trafficking.
In Villapinzon, 80 kilometers (50 miles) north of Bogota, Crisanto Heredia and Maria Romero — who farm potatoes and cattle — battled since 2005 to win formal ownership of the land they briefly lost in fighting between the state and FARC.
At the end of June, the couple finally got their title deed.
"We are very happy to have this document in our hands," said Heredia.
Petro's government says it has already given title deeds for more than one million hectares of land to farmers and Indigenous people, compared to the 1.4 million hectares given out by his conservative predecessor Ivan Duque over his four-year mandate (2018-2022).
The president has also won support from those who were held in prison after protesting Duque's government, and released after he came to power.
"We can't say everything is perfect, but Gustavo has given hope back to the youth," said Laura Ramirez, 25, who was imprisoned for eight months. She now works for the new government.
'They have given too much' –
One of the main criticisms faced by Petro is that his efforts to negotiate with armed groups — which include an order for the army to suspend operations against them — has in fact allowed criminals to expand into new territories.
"They have given too much to the rebels," said Yaneth Calvo, who is mourning the death of her policeman husband. In March, Ricardo Arley Monroy was stabbed by protesters who took a group of officers hostage while demonstrating against an oil company in the south of the country.
The government says the protesters are being manipulated by dissident FARC rebels, who did not sign a historic peace accord in 2016.
Calvo said her husband "felt that security forces had been abandoned and deprived of the means to defend themselves" since Petro took office.
In the southern region of Meta, governor Juan Guillermo Zuluaga is alarmed at what he sees as the growth of armed groups in regions that had previously been spared.
"We are allies of the government in the search for peace, but 'total peace' without total security, does not exist."
Petro's efforts to reform the country have butted up against a hostile political environment, and he has since lost the political majority he needs to pass reforms, such as an amnesty for gang members who give themselves up, the redistribution of unproductive land, and reforms to labor and pension rules.
The president's first year has also been tainted by scandal, such as claims of the illegal financing of his election campaign.
His son, Nicolas Petro — who was arrested for money laundering — admitted to prosecutors that money he received from a drug cartel filtered into his father's campaign, but without the president's knowledge.
by David SALAZAR / Juan Sebastian SERRANO
©️ Agence France-Presse