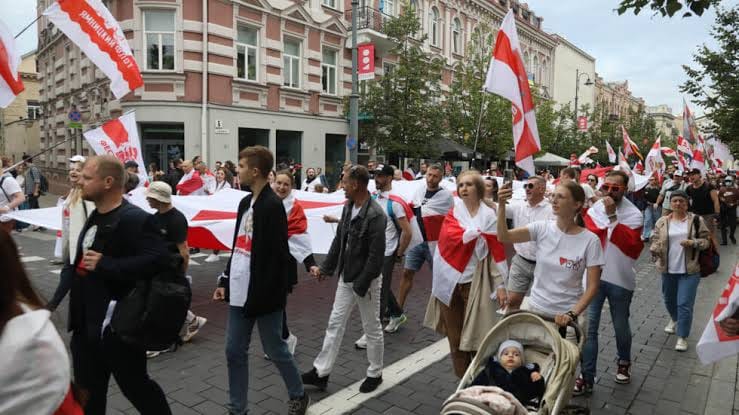 West imposes new sanctions three years after Belarus crackdown
Western powers on Wednesday imposed new sanctions on Belarus three years after mass pro-democracy protests crushed by strongman President Alexander Lukashenko, whose government lashed out at criticism on the anniversary.
Lukashenko, an ally of Moscow who has ruled Belarus since 1994, was widely accused of falsifying the results of the August 9, 2020 election to give himself a sixth term.
The fallout led to the biggest protests in recent Belarusian history that were put down with force. Three years on, nearly 1,500 people are in jail and tens of thousands more have fled the country.
The United States, which already has sweeping sanctions on Belarus, said it was taking further action including against state carrier Belavia, making business dealings with the airline a crime, and blacklisting a tobacco mogul close to Lukashenko.
The State Department said it was also banning visas to 101 Belarusian officials, judges and others accused of subverting democracy.
"The United States continues to stand with the brave people of Belarus as they seek a country grounded in the rule of law, respect for human rights and an accountable, democratically elected government," Secretary of State Antony Blinken said in a statement.
State Department spokesman Matthew Miller renewed support for exiled Belarusian opposition leader Svetlana Tikhanovskaya and activists who are pressing for "free and fair elections and a peaceful and sovereign Belarus."
In coordinated action, Canada announced new sanctions and said there were parallel actions planned from the European Union, Britain and New Zealand.
"There can be no impunity for human rights abusers, and the Belarusian regime's support for the Russian leadership's brazen acts will not go unpunished," Canadian Foreign Minister Melanie Joly said.
Lukashenko has allowed Russia to use Belarusian territory to attack Ukraine.
'Hackneyed false accusations' –
Three years on, Minsk appeared defiant.
"Despite illegal sanctions, the closing of airspace and blocking of borders, information pressure, provocations from some EU members, Belarus has been able to retain and strengthen its statehood," the Belarusian foreign ministry said in a statement.
It accused the EU of pursuing an "aggressive policy" and called on it to recognize Lukashenko as the winner of the 2020 election.
Minsk said EU officials were using the anniversary of the vote for "hackneyed false accusations against Belarus."
Earlier, EU foreign policy chief Josep Borrell commemorated the protests that were suppressed with "extreme brutality."
"Today, three years later, the situation is worse than ever for those who dare to voice any criticism of the system," he said in a statement.
According to rights group Viasna, there are 1,494 political prisoners in Belarus.
Borrell also said that Minsk has become a "threat to regional and international security" and an "accomplice" to Russia's war in Ukraine.
"This complicity has allowed the illegal deportation of Ukrainian children by Russia to the Belarusian territory," Borrell said.
He also said the EU was "worried" about Belarus hosting Russian Wagner fighters, who staged a short-lived rebellion against Russia's military leadership.
Borrell said the EU will "continue putting pressure on the Belarusian regime as long as needed" and "supports the efforts of the Belarusian democratic movement."
©️ Agence France-Presse