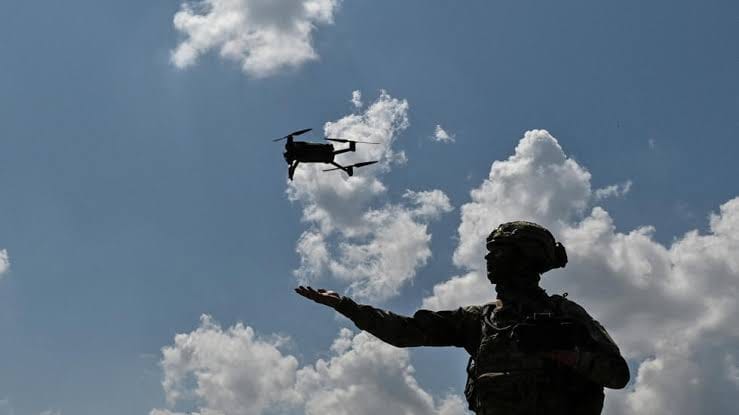 Russia announces destruction of 20 Ukrainian drones over crimea"
The Russian defense ministry has reported that its forces successfully intercepted and destroyed a group of 20 Ukrainian drones over the Crimean Peninsula, which Russia annexed in 2014.
The attempted attack took place early on Saturday morning and was repelled without any casualties or damage, as announced by the defense ministry through the Telegram messaging app.
"Air defense systems neutralized fourteen of the drones, while six others were rendered ineffective using electronic warfare tactics, the ministry stated. The target of these reported attacks on the peninsula remains unclear at the moment".
Sergei Kryuchkov, an advisor to the governor of Crimea appointed by Russia, confirmed the engagement of air defense systems across different parts of the region to counter air threats.
The Crimea transport authorities used their Telegram channel to announce a temporary suspension of traffic on the Crimean Bridge, connecting the peninsula to the Russian Krasnodar region. The bridge closure lasted for approximately two hours, starting from 01:30 AM local time (22:30 GMT on Friday).
This incident adds to a series of instances where Ukraine has employed armed drones to strike deep into Russia and Russian-controlled territories. However, Ukraine rarely takes public responsibility for such operations.
In a separate development, "Russian officials revealed that Ukrainian drones were intercepted while attempting to target Moscow. This marked the third consecutive day of attempted strikes on the Russian capital".
"Tragically, on the same day, an 8-year-old boy in Western Ukraine lost his life due to Russian missiles. The lethal missile struck a house in the Ivano-Frankivsk region, located about 100km (60 miles) from the border with Poland, according to Ukraine's prosecutor general's office".
"One of the downed drones near Moscow crashed onto the Karamyshevskaya Embankment, situated approximately 5km (3 miles) away from a Moscow business district that had previously been hit by drones on two occasions".
"The presence of drones in the area led to flight disruptions at two Russian airports on Friday. Operations resumed later at Vnukovo Airport, one of Moscow's busiest, as well as at Kaluga Airport, southwest of the city. This marked the third consecutive day that Vnukovo Airport had to halt flights due to drone-related security concerns".