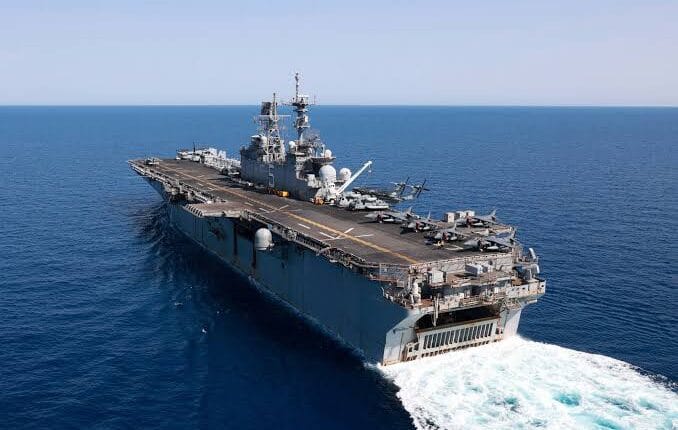 Tensions spike as shippers urged to avoid Iranian waters due to seizure threat
Western-backed maritime forces in the Middle East have issued a stark warning to shippers traversing the strategic Strait of Hormuz. The advisory cautions vessels to steer clear of Iranian territorial waters to prevent the risk of being seized.
This move comes after a previous warning earlier this year, preceding Iran's seizure of two tankers near the narrow mouth of the Persian Gulf, a crucial passage for 20% of global oil trade.
"As discussions between Iran and the U.S. approach a possible agreement involving the release of detained Iranian-Americans in exchange for unfreezing Iranian assets held in South Korea, the recent warning underscores the sustained tension at sea. In response to heightened troop, ship, and aircraft buildups in the region, the U.S. is considering deploying armed forces on commercial ships in the strait as a deterrent".
"U.S. Navy Cmdr. Timothy Hawkins, representing the Mideast-based 5th Fleet, acknowledged the issuance of the warning but refrained from disclosing specific details. The International Maritime Security Construct, a U.S.-supported maritime group, is leading efforts to de-escalate the regional tensions by advising mariners to keep a considerable distance from Iranian waters".
Additionally, a European Union-led maritime organization monitoring shipping in the strait has signaled a potential attack on an unidentified merchant vessel within the next 12 to 72 hours, according to private intelligence firm Ambrey. The firm recalled a previous incident where an Iranian seizure of a merchant vessel followed a similar warning.
"The Strait of Hormuz, located within the territorial waters of Iran and Oman, serves as a critical passage with a width of just 33 kilometers at its narrowest point. Any disruption in this route reverberates across global energy markets, potentially impacting crude oil prices and consumer costs for gasoline and oil products".
"The series of ship attacks attributed to Iran since 2019 have been attributed to the U.S. withdrawal from the 2015 Iran nuclear deal and the subsequent re-imposition of sanctions. Renewed assaults took place in late April and May, including the seizure of a Chevron Corp. oil-carrying ship and the Niovi tanker".
"The recent seizures prompted a substantial U.S. military deployment in the region, with thousands of Marines and sailors stationed on vessels like the USS Bataan and the USS Carter Hall. These deployments were confirmed through released Navy images of the Bataan and Carter Hall in the Red Sea".