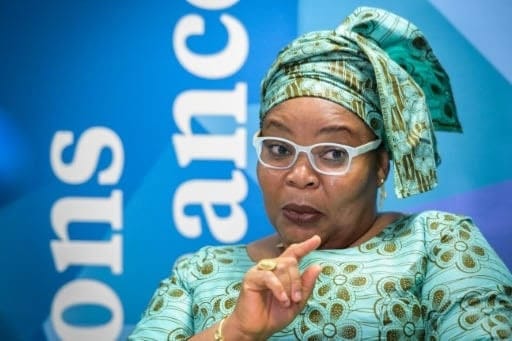 Liberian Nobel laureate condemns impunity on 20 years after peace accords
Nobel Peace Prize laureate Leymah Gbowee on Friday said Liberia cannot move forward unless it prosecutes former war criminals, as survivors commemorated the anniversary of the peace accord that ended two brutal civil wars.
No war criminals have been prosecuted within Liberia since the two civil wars — which left nearly 250,000 people dead, according to the United Nations — came to an end in 2003.
That is despite a Truth and Reconciliation Commission (TRC) recommending a hybrid criminal court with Liberian and international judges and prosecutors in its final report in 2009.
Several war criminals have been prosecuted in the United States and in Europe.
"Today, Liberians continue to say we have peace without understanding that there is an urgency for us to tackle the issue of justice", said Gbowee, speaking at a ceremony in the capital Monrovia to commemorate the anniversary of the Accra Peace Agreement.
"Everything you see happening in this country is because of our attitude of impunity — until we start dealing with those who gave us war on a silver platter, stop rewarding them with votes, until we make the justice issue key to our daily lives, we cannot see peace," the Liberian activist said.
Several people alleged to have committed atrocities still hold senior positions within the government, including senators Prince Johnson and George Borley, both of whom were among a long list of people named as perpetrators in the TRC report.
"We will continue to have toxic policy because we have not prioritized peace", Gbowee said.
On December 24, 1989, Libyan-trained rebels led by Charles Taylor invaded Liberia.
Taylor's rebel faction, the National Patriotic Front of Liberia (NPFL), fought against the government of then-president Samuel Doe.
Fourteen years of bloodshed ensued, with as many as seven armed groups fighting one another at its height.
"There has been no redress and there has been no accountability for what happened to us during the civil wars", said Peterson Sonyah, a survivor of the 1990 Saint Peter's Lutheran Church massacre, in which about 600 people were killed in one of the deadliest attacks in the West African nation's history.
"We lost our friends, fathers and mothers, but up to today there has been no judgment", Sonyah said.
In a speech at a separate commemoration event, President George Weah made no new or renewed commitments to prosecute war criminals or establish a war crimes court.
"The war came, all of us were innocent to that", he said. "It happened — do we want to go back there? No."
Hassan Bility of the NGO Global Justice and Research Project suggested the long delay in seeking justice is a "tactic".
"You cannot wait until all the perpetrators or victims are dead before you want to set up a court", he said.
Liberia is due to hold presidential and parliamentary elections in October. Twenty presidential candidates have been announced, including Weah, who will be seeking a second term.
©️ Agence France-Presse