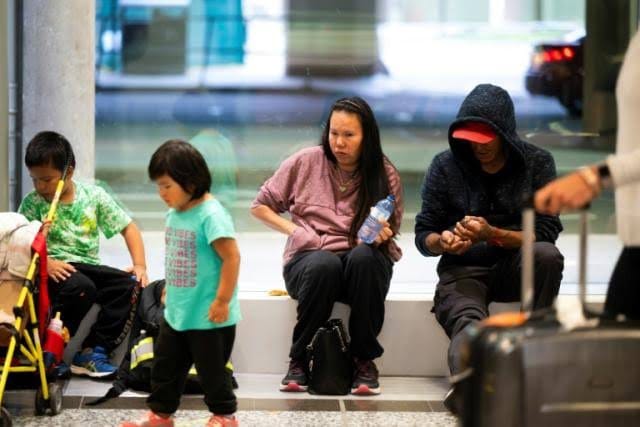 We're all tired': Thousands of evacuees arrive in southern Canada
Crystal Sangris barely slept for three days as wildfires threatened her hometown in northern Canada, and when she was ordered to evacuate, her anxiety turned to anguish.
"I never, never thought that this day would come," she told AFP on Friday at Calgary airport, after she left her home in Yellowknife, a city of 20,000 people that is now surrounded by flames.
"I didn't want to leave home, I was tearing up," Sangris, of First Nations origin, told AFP.
The 33-year-old housewife was evacuated Friday along with her husband and three children on one of several flights that landed in Calgary, more than 1,700 kilometers (1,050 miles) from the fires.
Calgary's airport in the neighboring province of Alberta has become a reception center for the evacuees, in a massive operation without precedent in the region.
The fire is about 15 kilometers from Yellowknife and could reach the city over the weekend, authorities warned, especially as weather conditions hampered the work of firefighters.
Evacuees are registered as soon as they land in Calgary's domestic flight terminal, some arriving with their pets.
Volunteers and local officials offer food and water before transferring them to nearby hotels serving as shelters for the displaced.
"I am very stressed and overwhelmed, so is my whole entire family. We're all tired," said Sangris, as she waited for a bus with her family to take them to their assigned hotel.
"My daughter is barely two years old. Everything is new to her, she doesn't understand what's going on. And my son, he's five, he's saying I want to go home," she said.
"We're trying to make him understand that we can't go home and there's a very serious situation back home."
When authorities told her on Thursday to prepare to evacuate, Sangris said she tried not to panic.
"I wanted to stay strong for my children."
But nerves and fear got the better of her.
"I was tearing up. I didn't want my son to see me," she said.
When she decided to leave, she said she packed up her valuables, such as the first clothes her daughter wore after birth, photos of deceased relatives and pictures of her children at school.
Although she said she is exhausted from the ordeal, she remained optimistic.
"I'm just hoping that we all make it through this together and that we all go home safe and sound and that Yellowknife isn't burned down."
©️ Agence France-Presse