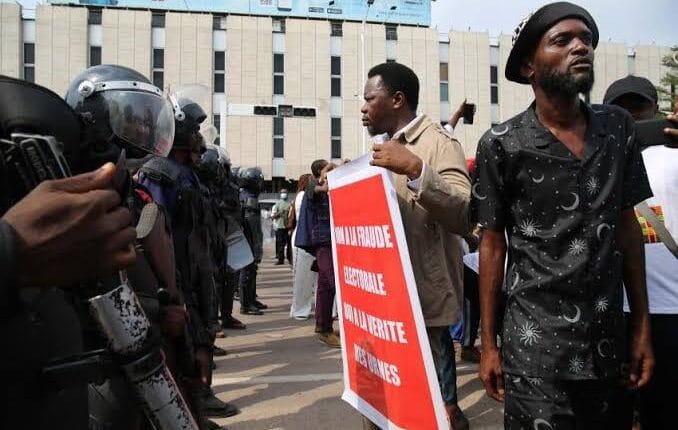 DR Congo cracking down on opposition ahead of vote: rights group
The opposition in the Democratic Republic of Congo is suffering "repression" and "intimidation" four months ahead of presidential elections, Human Rights Watch (HRW) charged in a report on Tuesday.
A "recent wave of arrests and restrictions on fundamental liberties is targeting opposition presidential candidates and their top officials," said HRW senior Congo researcher Thomas Fessy.
The New York-based group cited the UN Joint Human Rights Office which has noted "political and electoral violence, arbitrary arrests and detentions, abductions and threats targeting political opponents."
It also listed "violent repression… excessive use of force against peaceful demonstrators, and hate speech and incitement to violence."
The report quoted the Journalists in Danger network which has voiced alarm at "the increase in acts of intolerance and physical violence against journalists by supporters of political parties."
Most of the incidents cited involved the Together for the Republic party of Moise Katumbi — a major critic of President Felix Tshisekedi, who is seeking a second term in the December 20 vote.
Katumbi's top adviser Salomon Idi Kalonda was arrested by military intelligence agents in Kinshasa on May 30.
"Kalonda's arrest, detention, and the apparently abusive searches of family members' homes raise serious concerns of politically motivated efforts to intimidate the political opposition," HRW said.
He appeared at a military court on August 17 to be arraigned on charges of treason.
The accusations, which Kalonda's defenders deny, relate to alleged secret contacts with Rwanda, which the government accuses of abetting rebels in the DRC's east.
On July 13, MP Cherubin Okende, the 61-year-old spokesman for Katumbi's party, was found dead with gunshot wounds in his car in the capital.
The former minister of transport for Tshisekedi joined Katumbi late last year.
The Congolese government condemned the "assassination" which shocked the nation.
HRW quoted Tshisekedi from a June 25 speech warning he would "target without hesitation nor regret any Congolese who would endanger [the] country's security and stability".
"No matter what people say: human rights violation, deprivation of freedoms, I will not give up," he reportedly said.
On May 24, recently-appointed Interior Minister Peter Kazadi launched a verbal broadside against foreign journalists and the international community in answer to criticism of the violent suppression of a demonstration.
He accused them of "handing out (good) marks" forcing Congolese government leaders to adapt their policies "so as not to be transferred to the International Criminal Court."
©️ Agence France-Presse