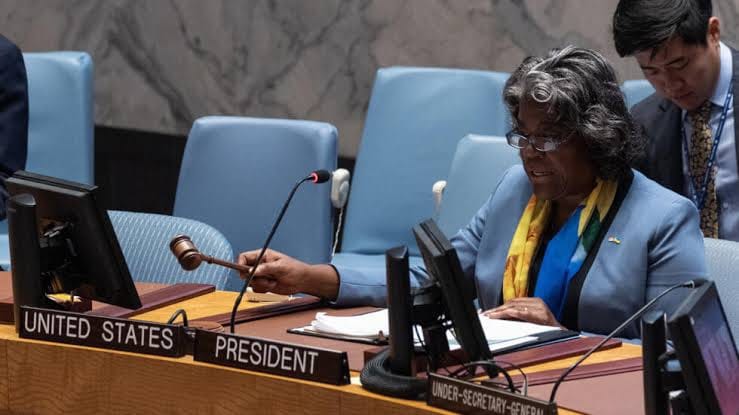 US sanctions Russians over Ukraine children deportations
The United States on Thursday imposed new sanctions on Russian officials and groups over what rights organizations call the forced transfer of thousands of Ukrainian children since Moscow's invasion.
The US ambassador to the United Nations, Linda Thomas-Greenfield, announced the measures as she chaired a Security Council session that coincided with Ukrainian Independence Day.
"Russia's campaign of cruelty continues to this day," she said.
"The United States will not stand by as Russia carries out these war crimes and crimes against humanity."
The United States said it was imposing sanctions on 11 Russian individuals, including a number of "children's rights" regional commissioners, blocking any US assets and making US transactions with them a crime.
The sanctions also targeted the Artek "summer camp" in Crimea, which Russia seized from Ukraine in 2014 and annexed in a move not recognized internationally, and an alleged re-education camp for children in Chechnya.
The State Department also said it would restrict visas to three Russians involved in the forcible transfer of children in Ukrainian territories under Moscow's control.
The International Criminal Court pointed to the transfer of children when it issued an arrest warrant in March for Russian President Vladimir Putin.
Russia has denounced the allegations and imposed its own sanctions on the Hague-based court's prosecutor.
Russian authorities say they have been placing children from conflict-hit areas into foster care in safe areas.
But Ukrainian officials and rights groups say that Russia has deported thousands of children, including babies, against their families' will in a bid to brainwash them and, for older children, to enlist them in military training.
"You will hear Russian officials say that their transfers of children are part of 'humanitarian evacuations.' But this is a gross perversion of reality, and a futile attempt to justify the unjustifiable," Thomas-Greenfield said.
©️ Agence France-Presse