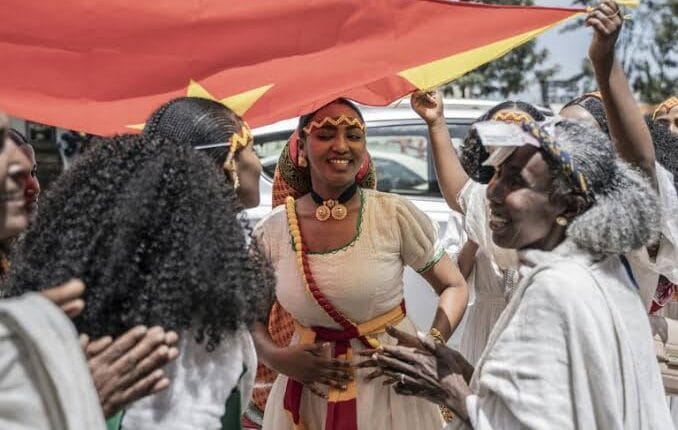 'Nothing like peace': Tigrayans celebrate festival after war hiatus
In the heart of Ethiopia's capital, a group of women danced while brandishing a flag bearing the insignia of the war-scarred Tigray region — a scene that would have been unimaginable a year earlier.
The two-year conflict that pitted Ethiopia's federal government against the Tigray People's Liberation Front sparked accounts of widespread rights abuses, including rapes by both sides and arbitrary mass detentions of ethnic Tigrayans in Addis Ababa and elsewhere.
While the northern region endured a massive humanitarian crisis due to a lack of food, fuel, cash and medicines, Tigrayans living in other parts of Ethiopia were forced to keep a low profile to avoid becoming the targets of ethnic profiling.
But the signing of a peace deal last November raised cautious hopes among the community, whose female members gathered to mark the traditional festival of Ashenda in Addis Ababa for the first time since 2020.
"We did not celebrate (Ashenda) in this country for the last three years, because our Tigrayan people were… in a war," said Selam Haile, 15.
"It was so bad for us," the teenager told AFP.
The festival, which ends on Saturday, honors girls and women.
They showed up for the celebration in traditional embroidered dresses and gold jewelry, their hair twisted into elaborate braids and curls, with beaded headbands across their foreheads and henna patterns adorning their hands.
"On this day we wear a special dress and traditionally decorate our hair and we keep our traditions alive while we are celebrating," said Dina Mohamed, 17.
The young woman told AFP she was "very happy" to showcase her culture after a long hiatus, echoing the joy expressed by others at the gathering hosted at a venue in Addis Ababa.
Originally a Christian festival marking the end of a 15-day fast commemorating the Assumption of Mary, Ashenda has evolved into a celebration that transcends religion.
Its roots lie in Tigray but it is also celebrated in the neighboring Amhara region and in Eritrea.
Men don't usually participate in the festival, which is focused on women and girls, who were in high spirits and filming selfies during the celebrations.
"It means a lot to us because Ashenda is freedom for girls," said Selam.
Others voiced their relief at finally being able to express their pride in their culture and share it publicly without shame or fear.
"We didn't celebrate (Ashenda) for a long time… But after all, all came back to love and unity and celebrating together. That makes it so special," said Danawit Tesfaye, 23.
Rebeka Seyum, 38, told AFP she did not know "how to explain my happiness."
"There is nothing like peace," she said finally.
by Aymeric VINCENOT
©️ Agence France-Presse