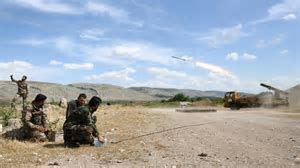 Libyan army drops Turkish regime's drone in Tarhuna
Libyan army has confirmed an attack on Turkish regime's drone in the city of Tarhuna southeast of the capital Tripoli.
This was disclosed by Libyan Military Information Division on Thursday May 21, 2020.
The Libyan Army's Military Information Division stated that "The air defense platforms of the armed forces shot down a Turkish plane in the city of Tarhuna that tried to raid the sites of safe civilians inside the city."
On the other hand, the Libyan Army's Air Force Chief of Staff, Saqr Al-Jarushi, also confirmed that the air force is about to carry out the largest air operation in the history of Libya.
Al-Jaroushi said that the coming hours will be very painful for the "fool and his followers", referring to the head of the Turkish regime Recep Tayyip Erdogan.
He explained that all the Turkish sites and interests in all the "occupied" Libyan cities will be a legitimate target for the Libyan Air Force hter jets, urging the civilians to stay away from them.
While revealing the planned invasion of the Libya by Turkish regime, Libyan army spokesman, Major General Ahmed Al-Mismari, expressed surprise that the United Nations has not made any move to condemn Turkish interference in his country.
The Turkish regime has continued to transfer more of its soldiers to Libya in order to achieve his evil aim against the Libyan people.