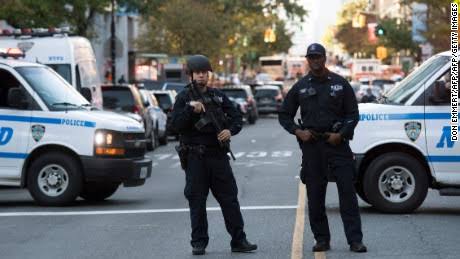 NYC Shootings: Mayor Blasio vows to control use of guns
New York City Mayor, Bill de Blasio, has vowed to control the use of guns in the city, following the gory incidence of gun violence reported recently.
While disclosing this on Monday June 22, 2020, Mayor Blasio vowed not to let the city slip back into the bad old days of gun violence. He noted that the demand for cuts to the NYPD budget had some wondering if officers have abandoned proactive policing.
While NYPD crime statistics show increase in murders, shootings and burglaries, police reported that there were a total of 28 shootings with 38 victims in 72 hours over the weekend.
Officers responded to eight shootings Friday, 18 on Saturday and two more Sunday.
De Blasio acknowledged the warmer months typically bring more violence, and said some of the shootings have been linked to gangs and retaliations.
"In the beginning of the year, we saw an uptick in crime and shootings. We saw some leveling off for a few months in the beginning of the coronavirus crisis. Now, we've seen something very troubling in recent weeks," the mayor said on Monday.
The frightening violence has put the mayor between a rock and a hard place in terms of balancing public safety and police reform.
The mayor said the NYPD's annual "Summer All-Out" initiative is adding hundreds of officers to streets in neighborhoods with upticks in gun violence, and Cure Violence crisis management groups will also increase their coverage in those areas.
"We are not going to allow gun violence to continue to grow in this city. We're not going to go back to the days when there was so much violence pervading our communities," he said.
"We're going to use new strategies and approaches in policing, new strategies and approaches at the community level. We're going to do whatever it takes to fight back gun violence."
The mayor specifically mentioned the Bronx and Brooklyn North.
But, some are left wondering why the spike in shootings is happening now.
Reacting to the situation, Former NYPD Chief of Department, Joseph Esposito, stated that it's because proactive policing is not happening and that anti-police demonstrations have taken a toll.
"They're all looking over their shoulders and in the back of their mind, whether consciously or subconsciously, they're saying, 'Why should we bother? We don't get the support. Why should we bother?'" said Esposito.