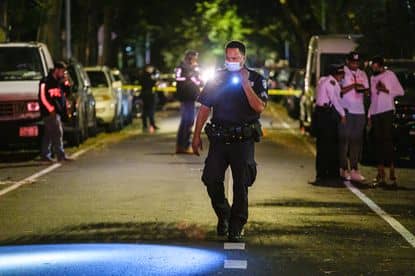 Bullets hit man, woman in Queens bold attack
A man has been shot in the leg while another female bystander got a graze on the ear during a bullet spray by two gunmen dressed in black on Wednesday August 5, in Queens.
The incident happened around 8pm near Clemens Triangle at the intersection of Mrytle and Cypress Avenue in Ridgewood.
NYPD spokesman reported that two gunmen dressed in black opened fire with at least nine gunshots on nearby Cornelia St., hitting a a 20-year-old man in the leg and a 37-year-old woman in the head — miraculously only grazing her ear.
According to Police, the woman yet to be identified was about to cross the street at Clemens Triangle when the bullets started flying.
The man who was shot in the leg told police he had been sitting in a car on Cyprus Ave. when he was struck.
He was immediately driven to the hospital in a private vehicle.
A witness at the the scene of the attack said the woman was, "bleeding from the head, and the gunmen sped off down Cornelia street, the wrong way."
Police Spokesman said the attack is under investigation and that both victims are being treated at Wyckoff hospital.