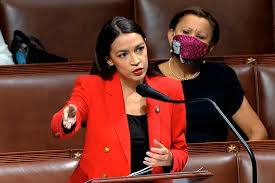 Congresswoman Ocasio-Cortez to launch campaign for census, voter registration outreach
Congresswoman Alexandria Ocasio-Cortez has announced plan to formally launch a robust, well-funded effort to increase voter registration and census participation in her district which covers parts of Queens and the Bronx.
While disclosing this in a statement signed by the Press Secretary Congressional Campaign, Ivet Contreras, on Friday August 14, 2020, Ocasio-Cortez stated that the launching will kick off at Woodside Houses in Queens on Saturday August 15, 2020.
"The campaign team which began organizing efforts for the census in mid- July, is ramping up engagement in light of the census deadline being abbreviated to September 30th," the statement reads.
It adds that "The AOC campaign will direct $1 million to Census and voter registration efforts between now and September 30th."
The Congresswoman received 71% of the vote from this NYCHA development in her 2020 primary election victory, nearly doubling her support in the election district since her win in 2018 (when she received 38% of the vote).
Members of the media who attend are urged to wear a mask and to maintain a distance of six feet from others.
NY-14 is nearly 50 percent immigrant and currently just 44.9 percent of her constituents have completed the census.