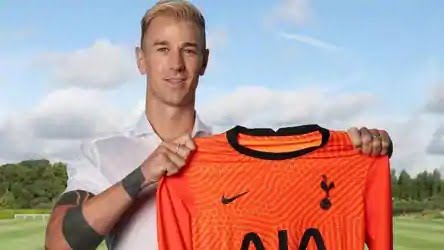 Tottenham signs Joe Hart on free transfer
Joe Hart, 33, former Burnley and Manchester City goalkeeper, has signed a two-year contract with Tottenham on a free transfer after his contract expired with the Clarets on June 30.
Announcing the signing on Tuesday August 18, 2020, Tottenham disclosed that Hart will compete with Paulo Gazzaniga to become Hugo Lloris' deputy.
"I am here to help the team in any way I can, be it on the field, off the field. I am here to try and push the club forward.
"There is no getting away from it, it has been a difficult couple of years for me on the football field but I feel like I've got so much to give, I feel like I've got a lot of quality, I've obviously got a lot in the bank," Hart said.
Hart however stated that he had an admiration for Hugo and hoped he could learn from him.
"I've got huge admiration for Hugo, one of the world's greatest goalkeepers and genuinely really excited to work with him," he said.
During his 12 years with Manchester City, he won two Premier League titles, two League Cups and one FA Cup.
Hart, in 2016 fell out of favor at Manchester City following the arrival of Pep Guardiola. He had a loan spells at Torino and West Ham.
He joined Burnley in 2018 and made 24 appearances. Losing his Burnley place to Tom Heaton, he was behind Nick Pope through the 2019-2020 season.
He would be hoping to get more opportunities with Tottenham despite its tight schedule.
"I feel like I am starting again and I quite enjoy that feeling. My body is certainly ready for me to start again. I have worked hard, I have tried to grow as a person and grow as a player," he said.
Hart started his professional football career with Shrewsbury and has 75 caps for England. He however has not been playing for England in more than three years.