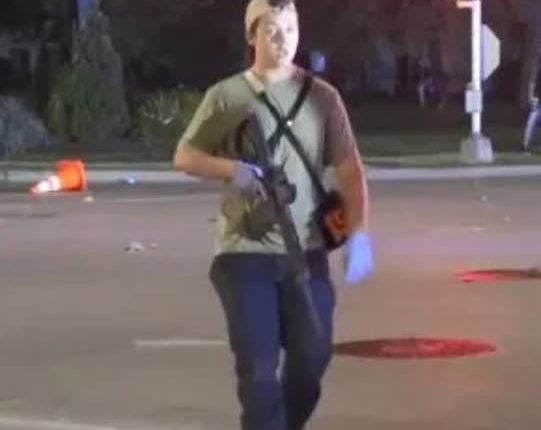 Police arrest teen who killed two people during protests in Kenosha
Police have arrested a teen, who was accused of shooting at a group and killing two, during protests in Kenosha, Wisconsin last night.
The Antioch police department announced in a Facebook post that the teen suspect is now in custody in Illinois.
Police did not name the 17-year-old but said is an Antioch resident, according to the post.
State Attorney's office in Lake County, Illinois, said Kyle Rittenhouse was in bond court this morning regarding being a fugitive from justice in Wisconsin, and is being held on no bond.
Kyle is expected back in court for an extradition hearing on Friday.
Cellphone video making rounds on social media showed a white man with a semitic-automatic rifle opening fire on a group of people during demonstrations over the police shooting of Jacob Blake.
Kenosha police said the two people killed have been identified as a 26-year-old from Silver Lake, Wisconsin, and a 36-year-old from Kenosha.
Police also said they identified a wounded victim as a 36-year-old from West Allis, Wisconsin, who was expected to survive.
The shooting came as clashes again erupted between demonstrators and law enforcement during a third night of unrest, looting and vandalism in Kenosha, where on Sunday a police officer was seen on disturbing video shooting Jacob Blake multiple times in the back.
Protesters continued on Tuesday with demonstrations, raising tension between them and an armed group purportedly organized to protect public property, according to reports.
The Anti-Defamation League, known for tracking extremist activity said there were militia members at the Kenosha protest but found no indication from Rittenhouse's social media footprint that he is connected to any extremist movements.
Posts earlier shared by the suspect indicate he is extremely pro-police and appears to have been a former police explorer, with many of his social media posts reading the phrase, "Blue Lives Matter," according to the ADL.
"The violence and destruction that place took in Kenosha last night was despicable," Wisconsin Attorney General Josh Kaul said in a statement.
"Kenosha residents deserve the opportunity to grieve, come together, peacefully protest, call for change, and heal. If those engaging in violence and destruction of property believe they are furthering some broader goal, they are wrong," he wrote.