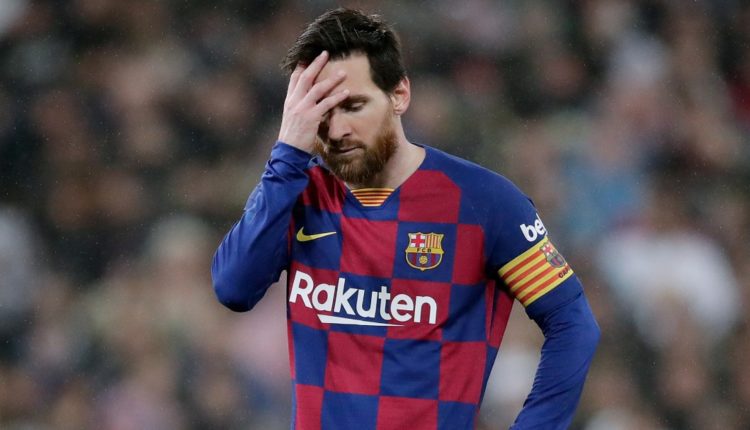 Lionel Messi chooses to remain in Barcelona, blasts President
Lionel Messi, 33, has finally admitted defeat over his quest to exit Barcelona free as he announced that he would stay at club for at least one more season.
In an interview with Goal on Friday, September 4, 2020, Messi confirmed that he would continue to stay with the club but stated that he has lost faith in Josep Bartomeu, the club's president.
Speaking about his earlier decision to leave the club, Messi said, "I wasn't happy and I wanted to leave.
"I have not been allowed this in any way and I will stay at the club so as not to get into a legal dispute. The management of the club led by Bartomeu is a disaster."
"I'll continue at Barcelona and my attitude won't change, no matter how much I have wanted to go," he continued.
"I told the club and the president that I wanted to go. I've been telling him all year.
"I thought my time in Barcelona was over, sadly – I always wanted to finish my career here," he says.
Messi, also criticized the Bartomeu's management of the club and stated that the club President has failed to honor an agreement. He said that Bartomeu had promised him that he would be allowed leave the club at the end of the 2019/2020 season.
"It was a very difficult year, I suffered a lot in training, in games and in the dressing room," he explained.
"The president always said that at the end of the season I could decide if I wanted to go or if I wanted to stay and in the end he did not end up keeping his word," he added.
Messi, who admitted defeat and chose to remain with the club, hinted on his family's reaction to his move to exit the club. He called the moment a brutal drama as the family kicked against the move.
"When I communicated my wish to leave to my wife and children, it was a brutal drama.
"The whole family began crying, my children did not want to leave Barcelona, nor did they want to change schools.
"But I looked further afield and I want to compete at the highest level, win titles, compete in the Champions League.
"You can win or lose in it, because it is very difficult, but you have to compete.
"At least compete for it and let us not fall apart in Rome, Liverpool, Lisbon. All that led me to think about that decision that I wanted to carry out."
Meanwhile, last month, Messi, six-time Ballon d'Or winner, handed in a request to leave the club for free with immediate effect.
He had the intention to exercise a clause in his contract that allowed him to leave the club at the end of last season.
In contrast to his request, Barca insisted that the clause was no more in effect because it had expired since June. The club however said that Messi could be allowed to leave the club if he pay €700million (£625m) release clause.
As the club is gearing up for the new season and determined to bounce back from its last season performance as they failed to grab La Liga nor Champions League, Messi would start the new season with Ronald Koeman, the club's new coach.