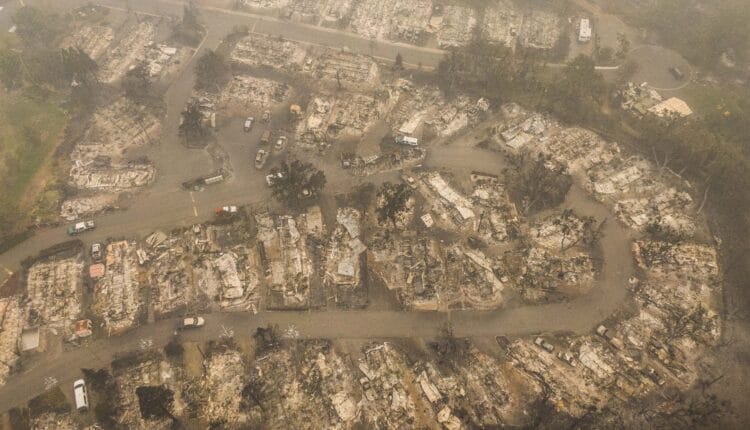 Wildfires race millions of acres, homes in Western U.S.
About twenty people have been killed and dozens more are missing in historic wildfires that have raced millions of acres and homes in Western U.S. including California, Oregon and Washington.
In Oregon, about 10% of the populations has been forced into evacuations zones as the fires burned down more than 1 million acres of land across the state.
While speaking about the fire in Southern Oregon which has burned hundreds of homes, authorities in Oregon said on Saturday September 12, 2020, that a man had been arrested and charged with arson in connection with the fire.
The state has declared a state of emergency while gearing for mass fatality event, according to the state governor, Kate Brown.
The Governor however stated that over 40,000 people have fled their homes while many more are still missing.
Similarly, while speaking about the fire that has impacted California so severely in the history of the state, California Gov., Gavin Newsom, said that worst climate forecasts has worsened the conditions of things in the state.
In California, which has experienced six of the twenty biggest historic wildfires this year, the fire has burned over 3 million acres, the biggest wildfire ever recorded in the history of the state.
The governor has promised to invest more in green energy and improve the state's environmental goals. He also called on Americans in other states to work together to reduce the adverse effect of climate changes.
"What we're experiencing right here is coming to communities all across the United States of America unless we get our act together on climate change," he said.
Greg Abbott, Texas Governor, has on Friday said 50 more trucks and 190 additional firefighters would be sent to California in addition to the ones from Utah and Colorado.
In Washington, the fire event which according to the Governor, Jay Inslee, is a climate fire not wildfire and the second worst since the 2015 fire season, has raced large mass of land and destroyed homes.
Speaking about the fire event on Saturday, Joe Biden, Democratic presidential nominee, said that the fires are an indication that climate change poses an existential threat to people's way of life.
"The science is clear, and deadly signs like these are unmistakable — climate change poses an imminent, existential threat to our way of life," he said.
"Our thoughts are also with the millions of Americans living just outside the path of these fires, forced into an awful choice between relocating in the midst of an ongoing pandemic or staying put in a place where every breath they draw forces them to inhale smoke," he added.
President Trump would be visiting California on Monday for a briefing on the fires by the local and federal fire and emergency officials.