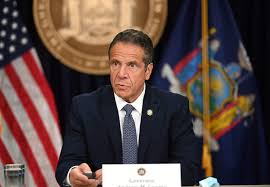 NYS Governor Cuomo extends commercial eviction moratorium
Governor Cuomo has announced that the commercial eviction moratorium has been extended until October 20, 2020.
While disclosing this on Monday September 21, 2020, Cuomo stated that the moratorium prohibits the initiation of a proceeding or enforcement of any eviction of any commercial tenant for nonpayment of rent or a foreclosure of any commercial mortgage for nonpayment of such mortgage.
Cuomo first announced on March 7, 2020, Executive Order Number 202, declaring a State disaster emergency for the entire State of New York.
"The pandemic remains far from over, and we need to continue protecting the business owners supporting their families amid restrictions necessary to protect the public health," Governor Cuomo said.
"That's why it's the right decision to extend the eviction ban for commercial tenants another 30
days," he stated.
"I hereby temporarily suspend or modify the following from the date of this Executive Order through October 18, 2020," he added.
Full details of the Order can be read here