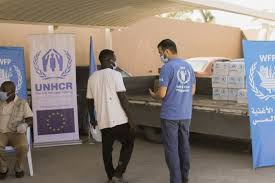 UNHCR, WFP expand partnership in Libya, reach out to more refugees, asylum-seekers
The United Nations Refugee Agency and the United Nations World Food Programme are expanding their support for food insecure refugees and asylum seekers in Libya with emergency food assistance.
This is in response to the severe socio-economic impacts of the COVID-19 pandemic in the country as well as the effects of the ongoing conflict.
The two agencies will expand their partnership, launched in June, 2020, to provide food support for people in areas outside of Tripoli, including Zawiya, Misrata, Benghazi and Zwara, as well as continuing in Tripoli.
Coronavirus infections have surged in the country, rising from 200 reported cases in June to nearly 28,000 cases.
COVID-19 related movement restrictions and curfews, as well as the ongoing conflict and economic crisis, have led to sharp increases in food prices, while making it hard for most refugees and asylum seekers to find daily work to support themselves.
WFP Representative and Country Director in Libya Samer AbdelJaber said, "The situation is getting worse by the day. Many people can't access food for a number of reasons including prices going up and limited food availability."
At the same time, there are almost no opportunities to work,"AbdelJaber added.
He further stated that the current state is exhausting people's ability to continue to cope with the growing pressures.
"At times like these, when meeting basic needs becomes increasingly hard, food support becomes even more of an imperative," he added.
People will be receiving locally produced ready-to-eat food which supports the local economy.
This food assistance does not require any cooking, which helps people at a time when cooking fuel prices are soaring.
"The coronavirus pandemic affected our daily meals," said Bashir, a 29-year-old refugee from Sudan who came to Libya to work as a daily labourer, and was among those interviewed.
"There's no work anymore, so there is no money. We have not been able to pay for food. Some days, if we can borrow a dinar, we buy bread just to fill our stomachs. That is the food we survive on," he said.
Both agencies have reported increases in requests for food assistance over the past few months.
During the WFP Country Director's July virtual meetings with mayors throughout Libya, food was listed as a top need in every conversation, with accompanying requests of additional assistance.
In Libya, WFP also supports crisis-affected internally displaced people (IDPs), returnees, and non-displaced populations including host communities and school children.
"The help we provide under this project is lifesaving," said UNHCR's chief of Mission Jean-Paul Cavalieri.
Cavalieri continues that "It's especially crucial for those just released from detention, who struggle initially to support themselves in urban settings."