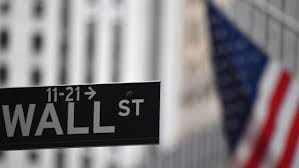 Stock has recovered from sharp losses of the previous session as it saw a rise in shares with Amazon leading with higher shares among Big Tech.
The S&P 500 side saw 0.7% higher trade value with The Nasdaq Composite trading 1.2% higher and a 82 points, or 0.3% rise in the Dow Jones Industrial Average.
Amazon saw a 4.9% rise in shares following an upgrade from a Bernstein analyst urging the e-commerce giant to buy from hold.
It was also noted that investors could take the recent pullback in stock market as an effective entry points.
Big Tech companies that saw a rise in stock include Facebook and Microsoft with more than 2% rise in points, Alphabet with 1.9% rise while Netflix saw about 0.6% gains.
With the Tuesday's gains, S&P 500 and Nasdaq seemed to have got back on track from the previously recorded four-day consecutive losses, which are the companies' longest losing streaks since the beginning of February.
Similarly, the Dow, with the Tuesday's rise in stock, was to experience its first daily gain in four.
However, remarks by Jerome Powell, Federal Reserve Chairman, that economy would continue to receive support from the central bank for as long as possible, has stirred up a positive reactions from traders.
While emphasizing that uncertainty continues to becloud the possible way forward, Powell said there has been a much welcome pickup in economic activities.
Meanwhile, after the U.K Prime Minister, Boris Johnson, made an announcement that put fresh coronavirus restrictions in place ordering closure of restaurants and bars between 10 p.m. and 5 a.m to curb spread of the virus, the major average were lower.
The Prime Minister noted that the country was at a perilous turning point. The restriction further added to the number of places where people are expected to wear masks.
Speaking about investors' worries over the coronavirus reopening, Ally Invest's chief investment strategist, Lindsey Bell, said, "Coronavirus concerns have resurfaced, worrying investors that a reversal in reopening progress could be near."
"More and more uncertainty is arising as we get closer to the election but no closer to Congressional fiscal relief. But we're still optimistic this dip will be bought sooner rather than later," Lindsey added
For Wall Street, it was just coming off the sell-off in the previous session, while the Dow was posting its biggest one-day loss since Monday 8th of September.
The losses are said to be due largely in part to the coronavirus stimulus package that currently seemed to have reached a dead end.
Worst still is the deliberation on Justice Ruth Bader Ginsburg's replacement following the judge's death on Friday.
The lawmakers are snowed under as they await confirmation of a replacement by the Supreme Court while President Trump is hell-bent on appointing a replacement of Justice Ginsburg before the election day.
Economy wise, Wall Street has been having a tough time in the month of September with The S&P 500 down by 5%, Nasdaq by 7.4% and the Dow has about 4.2% losses.
While speaking about the scenario, TD Ameritrade's JJ Kinahan, the chief market strategist, said, "There's no reason to think this won't keep being a choppy market.
"Coronavirus overshadow everything right now. There's not end date for that. You don't know when you'll get a resolution to that."
Following Elon Musk, Tesla CEO's tweet that until 2022, electric carmakers battery day would not see high volume production, there was a 6% drop in Tesla's Shares. This happened much to the disappointment of investors and analysts alike.