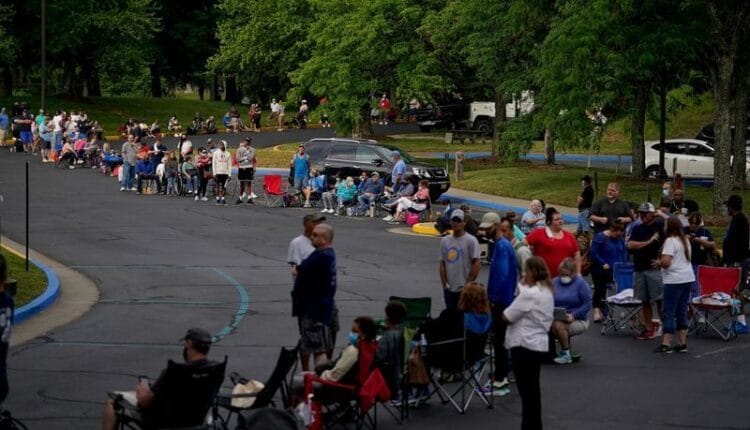 US sees unexpected surge in weekly jobless claims as stimulus boost looks less promising
The Labor Department has announced in a Thursday report that number of fresh filers for unemployment benefits has slightly increased beyond the expected figures last week.
According to the report on Thursday September 24, 2020, as the labor market slowly recovers from the impact of the pandemic, there were 870,000 initial jobless claims for the week which ends on the 19th of September.
The department however said the figure has been adjusted to reflect seasonal fluctuations.
The data came amidst struggle among the U.S.'s lawmakers deliberating on the need to approve new stimulus package which Federal Reserve and economist have said would give a boost to economic recovery in the country.
In a poll conducted by Dow Jones, economists had expected about 850,000 first time unemployment claims, falling slightly from 860,000 in the previous week.
The Thursday's report also revealed that without the adjustment, the last week filing was around 825,000, being slightly up 796,000 the previous week.
In the spring when layoffs were at their peak, there were approximately 6 million people filing for unemployment benefits following the approval of the recently expired weekly $600 supplemental benefits by the Congress.
Bleakley Advisory Group's chief investment officer, Peter Boockvar, said, "Bottom line, we have a mix of people going back to work because they are now greater incentivized to do so without the extra $600 per week and those that are still challenged in finding a job that matches their skills in this unfortunate pandemic landscape."
Giving an update on the New York's jobless claims, the department said that the state has witnessed weekly rise in the number of first-time claims which has surged by 9,000 last week. While in Georgia, first-time filers soared by over 6,000.
Meanwhile on Wednesday, Jerome Powell, Federal Reserve Chairman, urged lawmakers for more fiscal support to aid economic recovery.
"We've come a long way pretty quickly, and that's great. But there's a long way to go. So I just would say we need to stay with it, all of us. The recovery will go faster if there's support coming both from Congress and from the Fed."
Speaking about the rise in number of claims, Dennis DeBusschere, Evercore ISI analyst, said, "Claims, arguably the most important high frequency data point currently, missed expectations and moved up."
"Net net, with the Fed diminishing its own credibility by continually emphasizing the ineffectiveness of monetary policy and begging for fiscal support, weaker data will have a big impact on risk assets," he added.
However, in continuing claims, during the September 12 week ending, there was a decrease in the number of those receiving unemployment benefits by 167,000 to 12.58 million in two consecutive weeks.