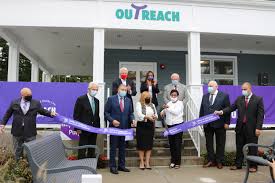 OASAS opens outreach's recovery residence for women on Long Island
The New York State Office of Addiction Services and Supports has announced the opening of Outreach's Recovery Residence for Women on Long Island.
Operated by Outreach Development Corporation, the new 25-bed women's residential treatment program, which opened officially earlier this year, will provide adults with comprehensive addiction services such as early recovery supports, medication-assisted treatment, and trauma informed care.
OASAS contributed $1 million in funding for the facility and the Dormitory Authority of the State of New York (DASNY) oversaw construction.
"During this difficult time with the COVID-19 pandemic, it is important now more than ever to make sure individuals and families have the services and support they need," said Lieutenant Governor Kathy Hochul, Co-Chair of the NYS Heroin and Opioid Task Force.
"The opening of this new women's addiction treatment program on Long Island will offer recovery services and residential options for women who are struggling with addiction in the Nassau and Suffolk County area.
"We are committed to continuing to invest in treatment and facilities across the state to help build back better, enhance quality of life and combat the opioid epidemic in New York," Hochul added.
OASAS Commissioner Arlene González-Sánchez stated that many gender specific life circumstances experienced by women may require a specialized treatment approach and "this program will enable us to meet these unique needs."
He added that the opening of this new women's program continues to build upon our overall statewide efforts to expand and provide targeted resources and supportive services for specific populations while also providing them with the tools to help them to thrive and achieve a life in sustained recovery.
Outreach will be able to serve an additional 50 to 75 women per year as a result of this program.
The addition of these beds furthers New York State's efforts to provide a full continuum of residential care for women suffering from addiction in order to better deliver the individualized care that is essential to recovery.
By incorporating essential elements of treatment all in one place, the Outreach staff is able to work with each individual to establish a personalized treatment plan which effectively addresses their recovery needs.
This new facility will offer residential addiction treatment services for women, ages 18 and over from Suffolk and Nassau counties, helping them to successfully transition back into their communities when they are ready.
Residential treatment services also include case management services, group counseling, skill-building, training in life skills and parenting, and recreational activities.
Additionally, the facility has 24-hour staffing, common living and recreational space, and transportation available to and from Outreach's enhanced outpatient program for women, also in Brentwood.
Outreach's Recovery Residence for Women is located at 400 Crooked Hill Road, West Brentwood, NY 11717. A video walkthrough of the facility can be viewed here.
"DASNY is proud to have managed this project for our partners at OASAS, helping oversee the design of a facility with features put in place specifically to help a vulnerable population receive the services they need on their road to recovery," said Reuben R. McDaniel, III, DASNY President and CEO.
"The additional living and treatment space provided, as well as special attention given to one-on-one and group therapy settings will ensure more women on Long Island have safe access to quality care," he added.
NYS Senator Phil Boyle said, "The opening of this Recovery Residence for Women begins a new chapter in the impressive history of successful programs at Outreach.
"This Residence will assist countless families who are, directly or indirectly, suffering with addiction," he said.