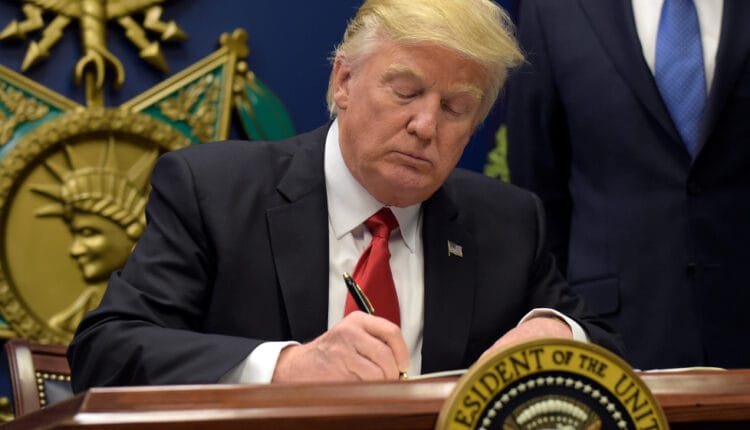 Dear American Voters,
I guess you'll agree with me, even though the fake news media outlets in the country have been unfair with me, that I've done tremendous job since I became your President.  And I'm willing to do more if you give me another chance. I am a nationalist, not a racist, with 'America first' in all my policies.
I knew the work of a President is huge and I fully prepared for it. And this is why I managed to break records of my predecessors as the President of the United States.
I don't want you to allow yourself to be deceived by some of these DEMOn-controlled media houses that are yet to recover from the shock I gave them in the last presidential election, which ushered me into the White House.
Obviously, the wounded Democrats have been tirelessly working to downplay all my achievements with all the tools they have, but the Lord Jesus Christ has always been by my side.
If they asked you: "What has Donald Trump achieved since he became the President of the United States?", don't hesitate to tell them these:
"President Donald Johnson Trump has done a great job and has accomplished a lot for this great nation. It was this man who rescued America from the Chinese economic bondage; he rescued us from Jewish from Iranian terroristic acts by withdrawing from the most dangerous and chickened agreement negotiated and signed by Barack Obama's administration, of course advised and supported by this same Joe Biden.
"He might not have won the so-called Nobel Peace prize, since it's also sometimes political; but President Trump has made tremendous peace deals like never before. The undeniable one you can easily point at is the Israel-Palestine Peace Accord, which brought about unification of the Middle Easterners, especially the Israelis and the Arab world. By the way, he actually planned to bring lasting peace to the region and settle the long-time dispute between the Muslims and the Jewish in the region. This means that the best part of these deals is yet to come. Don't forget also that it's during his first tenure that the senseless wars in Afghanistan and Syria were ended and our brave soldiers were returned home safely.
"Additionally, on national and global security issues, Donald J. Trump has done a fantastic job. The erection of walls at the Mexican borders has dramatically reduced the influx of criminals into the country. More so, Trump administration support global fight against terrorism with huge financial support and capacity building, particularly in Asia, Africa and Middle East. For example, his administration ended the lives of the most wanted terrorists in the Middle East, Soleimani and Al-Baghdad. Consequently, the region has moved on to the healing stage of their past terroristic experiences, backed and sponsored by the Iranian government of the innocent citizens, ruled by the terrorists and for the Mid-Eastern terrorists. This wouldn't have been easy without the huge budget allocated to our security sectors, which gave us more strengths and capacities, in terms of human and material resources. The activities of Al-Kaeda, Al-shabab, Boko Haram, and other terrorist groups have been subdued since Donald Trump became the President. No president before him could do these huge tasks in less than 4 years.
"More so, on matters related to economy, President Trump has a big shot. His less-than-four-year administration has put a lasting stop to foreign interference in our lives; the Chinese are no longer taking our jobs as we used to experience before his assumption of office. Russians now understand that we are the greatest nation on earth. We now take the lead everywhere around the world. Millions of jobs have now been created because we now have more manufacturing companies more than ever before. We now have the fastest growing economy in the world. Isn't that fantastic?
"In the areas of health and lifestyle, we're not doing bad at all, except for the politicized Covid-19. Mass testing made available across the country and provision of fund and other resources made it easy for Americans to battle and drastically alleviate the pandemic in the country, except for some states ruled and dominated by some sleepy Democrats. We're gradually recovering from this, as measures are already in place to bounce back stronger and better. President Donald J. Trump has undoubtedly done a great job for the nation. He has made America great again, so we should give him another chance to make it greater…"
Do not allow your elected officials, especially some governors, mayors, and congressmen and women, as well as senators to politicize your lives and lifestyles. Americans deserve the best, and I am willing to put in more effort, if given the second chance, to give them the best of the best lifestyles they deserve, regardless of age, religion and socio-political affiliation.
So please tell these bad mayors and governors that we do not need to close schools and businesses just because of this Chinese virus; we are smarter than that. We just need to handle it with care as it will surely disappear soon. All American citizens do not deserve to be panicking just because of this Chinese virus. These governors need to step up their administrative systems. And we are ready to support them, as long as they are prepared to be transparent and mature in their ways of handling this pandemic.
All American lives matter, not only the Blacks – this is my firm belief. As I condemn police brutality – perpetrated by very few policemen – I also firmly condemn criminality of all sorts in totality. We do not need criminals in our great country. All lives matter, I repeat. Our policemen should be respected and commended. Yes, we need police reform, just as we are reforming the economy and the health sector. However, defunding the police, proposed by some elected Democrat officials, is a terrible political move that is capable of boosting crime rate across the nation. This is why I say you shouldn't vote for the Democrat Sleepy Joe; he and his fellow weak politicians will turn America to a lawless nation. We must never let this happen again! A vote for Sleepy Joe is a vote for lawlessness!
I have sacrificed my 'all' for this great nation, and I am ready to sacrifice more. I am not arrogant; I am just bold, active and confident, unlike Sleepy Joe. So please vote for me in this November 3rd election, because a vote for Donald Trump is a vote for a greater America. Let's join hands together to make America greater again and again!
God bless the United States of America.
For: Donald J. Trump,
President of the United States