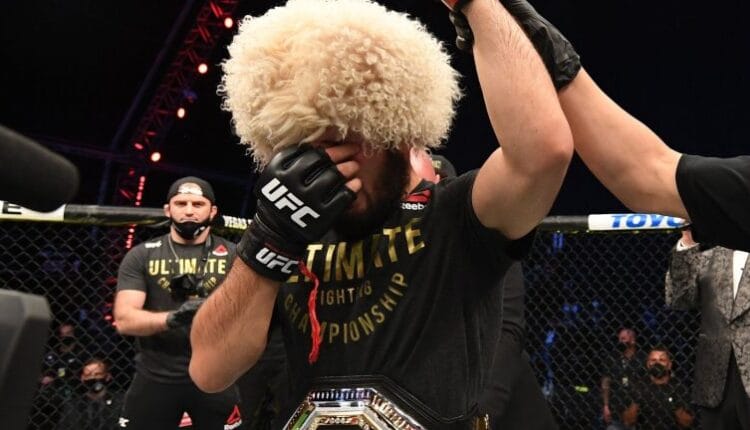 Khabib shocks world, quits UFC to honor father
Khabib Nurmagomedov has quitted the UFC after beating Justin Gaethje in a lightweight title fight at UFC 254 in Abu Dhabi on Saturday.
The Russian outclassed interim champion Justin Gaethje and forced him into submission in the second-round with triangle choke submission to extend his unbeaten record to 29.
Speaking after the fight, Khabib shocked the world by retiring from the sport.
He said he can't fight without his late father who passed away a couple of months back due to coronavirus.
He also stated that he took this fight to honour his father's memory and explained that his mother doesn't want him to continue without AbdulManap Nurmagimedov by his side.
"It was my last fight. There's no way I'm going to come here without my father," he said.
"It was the first time after what happened with my father when the UFC called me about (fighting) Justin, I talked with my mother for three days.
"She didn't want me to fight without father, but I promised her it was going to be my last fight, and if I give my word, I have to follow this. It was my last fight here.
"I know only one thing I want from the UFC: Tuesday, you guys have to put my number one pound-for-pound fighter in the world because I deserve this.
"Undisputed UFC lightweight champion, 13-0, 13 in the UFC, 29 in my pro MMA career. I think I deserve this."
Khabib leaves with an incredible record of 29 fights and 29 wins in his MMA career. He is 13-0 in the UFC, including a famous win over Conor McGregor.
Source: News Agencies