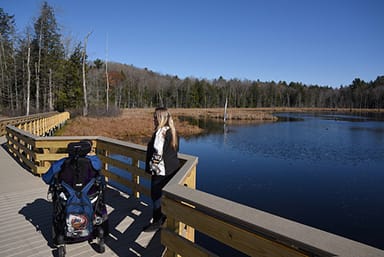 NYS DEC completes elevated boardwalk trail to connect New Yorkers with nature
New York State Department of Environmental Conservation (DEC) Commissioner, Basil Seggos, has announced the completion of the much-anticipated elevated boardwalk trail with mobility features at the Saint Francis Woodlands, Staten Island.
While disclosing this in a statement on Friday October 30, 2020, DEC Commissioner Seggos stated that DEC continues to expand accessible recreation across the state to encourage New Yorkers to get outside and experience nature.
"Today we are excited to announce the completion of this breathtaking trail, which will allow people of all abilities and families with children in strollers to enjoy the beautiful features in the Saint Francis Woodlands," Seggos said.
According to Seggos, the boardwalk, which is made of recycled composite lumber decking and rails, traverses the property and connects the parking lot located on Helena Road with the popular walk around Priory Pond.
He continued that the trail has multiple viewing spots along its route and includes a 35-foot bridge that takes visitors over the site's wetlands and streams.
"Boardwalk visitors will experience multiple changes in elevation that provide unique vantage points from which to take in the wildlife and flora present in this beautiful part of Staten Island.
"At the peak of the boardwalk trail, a 10′ x 15′ observation platform overlooks a vernal pool that is habitat for reptiles, amphibians, and many bird species that frequent the property," he said.
This past summer, DEC and the Office of Parks, Recreation and Historic Preservation launched the Play Smart, Play Safe and Play Local Campaign to encourage all New Yorkers to recreate safely, responsibly, and locally and to always treat fellow outdoor adventurers with respect.
During the State's ongoing response to COVID-19, New Yorkers across the state want and need to get outside for a nature break, which is good for physical and mental health.
The campaign includes common sense guidelines for smart and safe recreation, incorporating social distancing and wearing a face mask, planning trips ahead, choosing a destination close to home because public restrooms and restaurants may not be open, and visiting at off hours.
New Yorkers are strongly advised to plan their outdoor adventures ahead of time and choose alternate destinations if their first choice is closed or crowded.