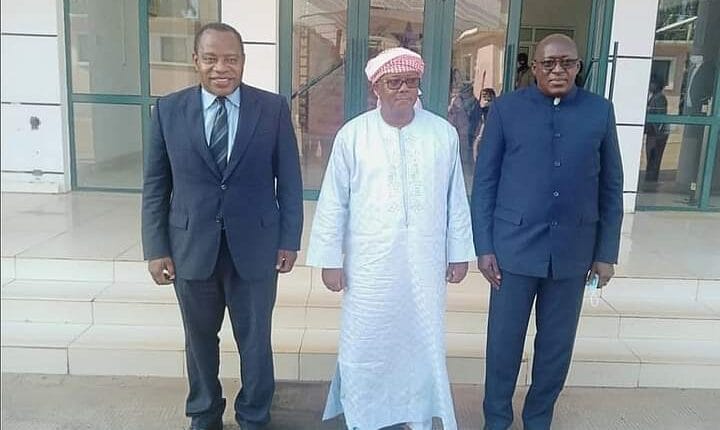 Speaker of ECOWAS parliament visits President Umaro Sissoco in Guinea
The Speaker of the ECOWAS Parliament, Right Honorable Sidie Mohamed Tunis, at the head of an ECOWAS Parliament Delegation, paid a courtesy visit on President Général Umaro El Mokhtar Sissoco Embalo at the Palåcio da Repüblica, in Bissau, Guinea-Bissau, on Monday 9th November 2020.
The Speaker, who is in Guinea Bissau to attend a Delocalized meeting of the Joint Committee of the ECOWAS Parliament on the theme "ECOWAS Food Security and Agriculture Production Program and the Fight against COVID 19", led an 11 -member delegation on the visit to the Guinea Bissau an Presidency.
In his opening remarks, the Speaker acknowledged the impressive reception his delegation has received, thanking His Excellency and the people of Guinea-Bissau for the support and hospitality they have exhibited since the arrival of the ECOWAS Parliament delegation in Bissau.
He then provided a brief summary of what is expected to take place over the coming days, emphasizing that ECOWAS Parliament takes seriously the issue of food security and wellbeing of all the citizens of the Community, especially in the wake of the Covid-19 pandemic.
"It is our anticipation that as we listen to expert opinions and contributions during the meeting, we will be provided with valuable information on efforts being exerted by ECOWAS to tackle food security and agriculture production post COVID-19 and will be in the right position to make informed decisions as a community Parliament", the Speaker noted.
He then expressed the hope that the ECOWAS Parliament and other ECOWAS Institutions will more frequently host programs in the lusophone countries, lending support to President Embalo's September 2020 plea at the Summit of Heads of State in Niamey, where he pleaded that the next Summit of Heads of States should be held in Bissau.
In response, President Embalo welcomed the delegation to Guinea Bissau and assured that his government was keen in helping to make the mission to Bissau a success.
He informed the Speaker and his Delegation that these were important times for the Biaasuan nation and people, stressing the importance of the support of ECOWAS during the period of political transformation the country is currently undergoing.
"These are very important times and I am committed to getting everything right."
"l am also sure that our political leaders, civil society, partners and all others are resolved to getting it right for the sake of Guinea Bissau", President Embalo noted.
The President indicated that he had begun a national dialogue in the country and is very confident that Guinea Bissau is on its way to becoming a great country.
"Consistent with the tenants of Democracy, we have instituted a constitution reform and the ECOWAS Commission has been informed of the process," he disclosed.
The President then expressed his support for a stronger ECOWAS and wished the Parliament well during their stay in Bissau.