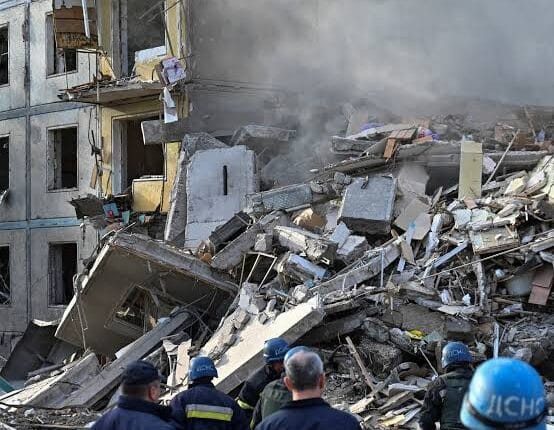 Russian missile attack in Ukraine claims four lives, injures dozens
A Russian missile attack on a residential apartment block has resulted in the loss of at least four lives and left more than 30 people injured. This attack marks one of the most significant strikes on civilian infrastructure in Lviv since the commencement of Russia's invasion last year, according to officials.
Ukraine's Interior Minister, Ihor Klymenko, confirmed on Thursday the death toll of four individuals caused by the attack, which caused the destruction of the third and fourth floors of an apartment building. Search and rescue teams are currently working tirelessly to reach those trapped under the rubble, Klymenko added.
The number of injured individuals was later revised to 32, including one child, by Ukraine's Interior Ministry. Emergency services have successfully rescued seven people from the collapsed building and evacuated 64 others, reports confirm.
Lviv's Mayor, Andriy Sadovyi, expressed his dismay on his Telegram channel, stating, "This is the biggest attack on Lviv's civilian infrastructure since the beginning of Russia's invasion." He further mentioned that rescue operations were focused on clearing debris and recovering the deceased from the affected building.
According to Ukraine's air force, Russia launched 10 Kalibr missiles targeting Lviv from the Black Sea. Fortunately, seven of these missiles were intercepted and destroyed.
President Volodymyr Zelenskyy promptly denounced the attack on social media, extending his condolences to the families of those killed in Lviv and promising a strong response to the enemy.
President Zelenskyy's Twitter post included a video showcasing the extensive damage sustained by a building in Lviv. Additionally, Lviv's regional Governor, Maksym Kozytskyi, shared a 13-second video clip revealing a four-story apartment building with significant sections missing or reduced to rubble. Kozytskyi had earlier mentioned that a critical infrastructure facility had also suffered damage, though specific details were not provided.
The reports of damage and civilian casualties in Lviv came after air raid alarms were triggered across Ukraine in the early hours of Thursday morning, accompanied by reports of cruise missiles breaching Ukrainian airspace. Mayor Sadovyi had earlier reported a series of explosions in the city and assured residents that all city services were diligently performing their duties.
Since its invasion in February 2022, Russia has been launching a series of drone and missile attacks on various locations throughout Ukraine. While the Lviv region, located far from the front lines, had enjoyed relative peace, it was hit by an extensive Russian drone assault in late June, along with Kyiv and other cities.
Ukraine has recently strengthened its air defense systems with Western-supplied weaponry, resulting in a decrease in the number of Russian missiles and drones breaching their defenses. However, Yuriy Ignat, spokesperson for Ukraine's air forces, acknowledged that the newly acquired air defense systems still fall short of providing comprehensive coverage for the entire country.