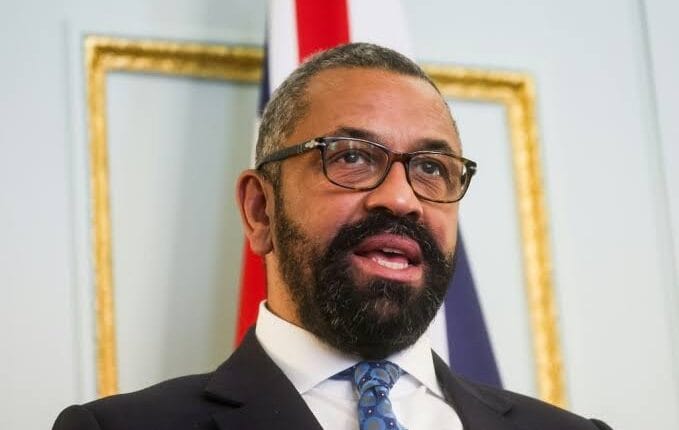 UK announces toughened up sanctions regime against Iran
Britain on Thursday announced plans for a tougher sanctions regime against Iran over alleged human rights violations and hostile actions against its opponents on UK soil.
The new sanctions regime will expand existing penalties imposed by creating new criteria under which individuals and entities can be hit.
They include any Iranian activities "undermining peace, stability and security in the Middle East and internationally", and the "use and spread of weapons technologies from Iran".
Russia has been accused of unleashing Iranian-made attack drones in Ukraine, while Tehran is a close strategic ally of Syria, and backs Lebanon's Hezbollah.
"The Iranian regime is oppressing its own people, exporting bloodshed in Ukraine and the Middle East, and threatening to kill and kidnap on UK soil," said Foreign Secretary James Cleverly.
"Today the UK has sent a clear message to the regime — we will not tolerate this malign behavior and we will hold you to account.
"Our new sanctions regime will help to ensure there can be no hiding place for those who seek to do us harm."
London accuses Iran of stepping up efforts to kill or kidnap perceived enemies of its regime, including in the UK.
It says the Iranian intelligence services have developed close relationships with organized criminal gangs in Britain and across Europe to help target opponents.
Since the start of 2022, the UK has uncovered "more than 15 credible threats to kill or kidnap British or UK-based individuals by the Iranian regime", it added.
The latest measures add to ones already taken over Tehran's hardline response to protests that have rocked the Islamic republic since the September 2022 death in custody of Iranian-Kurdish woman Mahsa Amini.
The 22-year-old had been arrested for an alleged breach of strict dress rules for women.
Demonstrations swept Iran after Amini's death, with at least thousands arrested since then, according to the United Nations and rights groups.
Ten months on, Iran was still punishing those suspected of involvement in the mass protests, according to a UN fact-finding mission which reported its findings on Wednesday.
"Harsh punishments continue to be meted out to those involved in the protests, including for exercising rights protected under international human rights law," Sara Hossain, chair of the independent international fact-finding mission, told the UN Human Rights Council in Geneva.
"Most chilling, seven men have already been executed following hasty proceedings marred by serious allegations of fair trial violations, including confessions extracted under torture."
Since the start of the year, the UK has imposed dozens of asset freezes and travel bans, citing alleged human rights abuses, on Iranian individuals and organizations including leading Islamic Revolutionary Guard Corps (IRGC) commanders and Tehran's prosecutor general.
The United States and the European Union have also toughened their own sanctions.
On Thursday, the UK said it had sanctioned 13 more people, including prison governors overseeing torture and inhumane treatment, intelligence and cyber organisations under existing human rights sanctions powers.
In February, the independent Iran International TV said it had been forced to shut down its London studios due to an escalation in "state-backed threats from Iran".
It followed the arrest of an Austrian man near the studios in southwest London who was later charged with "collecting information of a kind likely to be useful to a person committing or preparing an act of terrorism".
The British government summoned Iran's top diplomat in London over "serious threats" to the lives of UK-based journalists.
The BBC meanwhile has repeatedly complained of an ongoing campaign of threats and intimidation against journalists for its Persian-language service and their families at home and abroad which it has blamed on Iran.
©️ Agence France-Presse