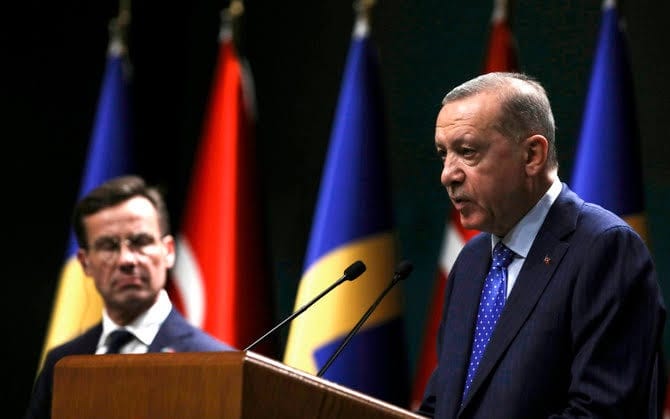 Sweden tries to break Turkish resistance in NATO talks
Sweden's prime minister will meet Turkish President Recep Tayyip Erdogan on Monday in a last-gasp attempt to bridge a diplomatic impasse over his Nordic state's stalled NATO membership drive.
The high-stakes talks on the eve of an alliance summit in the Lithuanian capital Vilnius come with NATO keen to demonstrate unity in the face of Russia's war on Ukraine.
NATO and the White House both fear the Kremlin is trying to use its strong ties with Turkey to seed divisions among Western allies.
US President Joe Biden is expected to raise the issue when he meets Erdogan on the sidelines of the two-day event.
Erdogan has voiced repeated frustrations with what he calls Sweden's failure to keep its promise to deal with suspected Kurdish militants allegedly "roaming the streets" of Stockholm.
"Sweden has taken some steps in the right direction," Erdogan's office quoted the Turkish leader as telling Biden in a call Sunday.
But Sweden's decision to allow pro-Kurdish groups to "hold demonstrations freely praising terrorism nullify those steps," Erdogan said.
Erdogan's stance is being supported by Kremlin-friendly Hungarian Prime Minister Prime Minister Viktor Orban.
The two countries remain the only NATO members still standing in the way of the unanimous ratification needed for Sweden to become the 32nd member of the US-led bloc.
Hungary has strongly signalled it will follow Erdogan's lead and approve Sweden's membership should Turkey give its green light.
NATO chief Jens Stoltenberg hopes to emerge from Monday's meeting between Erdogan and Swedish Prime Minister Ulf Kristersson with a Turkish commitment of support.
Analysts had hoped Erdogan would soften his stance after a hard-fought May election that he won by playing up his nationalist credentials to his conservative base.
The dispute stems from a deal Turkey signed with Sweden and Finland after the neighbours ended decades of military non-alignment and sought shelter under the nuclear umbrella afforded by NATO after Russia invaded Ukraine.
An agreement Stoltenberg finessed at last year's NATO summit committed Sweden and Finland to toughen their anti-terrorism legislation and hand suspected militants to Turkey.
Erdogan harboured far fewer grievances against Finland and Helsinki was formally welcomed into the alliance on April 4.
Sweden has since amended its legislation and also lifted an arms embargo it had imposed on Turkey after Erdogan launched a unilateral incursion into northern Syria in 2019.
The Swedish government last month also agreed to extradite a man convicted of drug trafficking who had supported the pro-Kurdish PKK militia — a first that Stoltenberg played up in public remarks last week.
But Erdogan has seized on Swedish police decisions to allow pro-PKK demonstrations and protests at which anti-Islamic figures have burned pages from the Koran.
One such protest late last month ignited shows of anger across the Muslim world.
The Swedish government has issued a formal condemnation of the "Islamophobic" act.
But it also stressed that Sweden had a "constitutionally protected right to freedom of assembly, expression and demonstration."
Erdogan has hinted that he was still open to persuasion and that his mind was not yet made up.
Turkey will "make the best decision (on Sweden's membership), whatever it is," he said on Thursday.
©️ Agence France-Presse