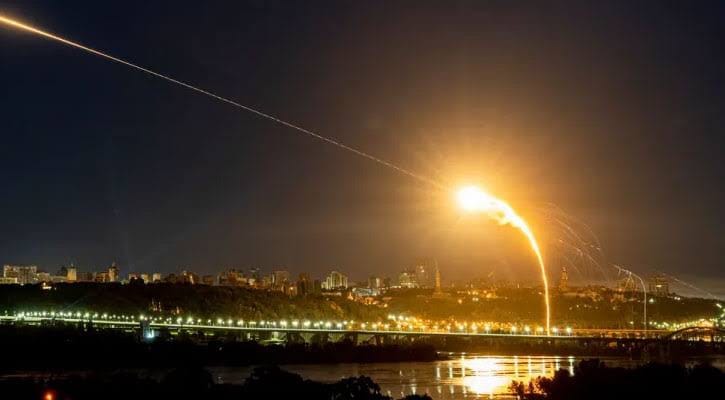 Russia launches consecutive drone attacks on Kyiv as NATO summit commences
Russia launched a series of drone attacks on Kyiv and other regions, coinciding with the ongoing NATO military alliance summit. The assault took place just hours before Ukrainian President Volodymyr Zelenskyy was scheduled to meet with NATO leaders.
During the early hours of Wednesday morning, Russia deployed a total of 15 drones, believed to be of Iranian origin, to target various locations. The Ukrainian Air Force reported that 11 of these Shahed drones were successfully shot down by their air defense systems. Ihor Taburets, the military head of the Cherkasy region southeast of Kyiv, described the night as "difficult" and confirmed the enemy's use of "Shaheds" in the attack through the Telegram messaging app.
The extent of the damage caused by the drone strikes remains unclear, but Taburets stated that two individuals were injured, and a non-residential infrastructure facility caught fire. The specific number of drones launched on Cherkasy and Kyiv is yet to be determined.
Serhiy Popko, the head of Kyiv's military administration, emphasized that the drone attack occurred on the "504th day of the full-scale invasion of the Russian Federation into Ukraine." This recent assault follows the previous day's air raids on Kyiv and other locations, which also involved Iranian Shahed drones.
The Washington, DC-based Institute for the Study of War (ISW) reported that the Ukrainian military successfully intercepted 26 out of 28 Shahed 131 and 136 drones. The ISW suggested that these attacks were likely a demonstrative response from Moscow aimed at the ongoing NATO Summit in Vilnius, Lithuania, which commenced on Tuesday.
Furthermore, Ukrainian commanders revealed that the Russian drones targeted port infrastructure and a grain terminal in the Odesa region. The ISW expressed its belief that these specific drone strikes were intended to dissuade NATO members from providing additional military aid to Ukraine.
"The timing of Russia's drone strikes on port infrastructure coincides with the first day of the NATO summit in Vilnius and appears to be an effort to discourage NATO from extending further military support to Ukraine," stated the ISW. The institute also suggested that Russia may be using the threat of disrupting the Black Sea grain deal to send a message to Turkish President Recep Tayyip Erdogan. The recent statement of support for Ukraine's NATO membership by President Erdogan, as well as the return of five Ukrainian Azovstal commanders on July 7, were seen by the Kremlin as unwelcome developments.
Kremlin spokesman Dmitry Peskov expressed disappointment, stating that Turkey had pledged to keep the Ukrainian commanders in custody for the duration of the conflict under a prisoner exchange agreement. Moscow claimed it had not been informed about the decision to repatriate the commanders to Kyiv.
As tensions escalate between Russia and Ukraine, the international community closely monitors the situation, especially as NATO leaders gather to discuss the ongoing crisis.