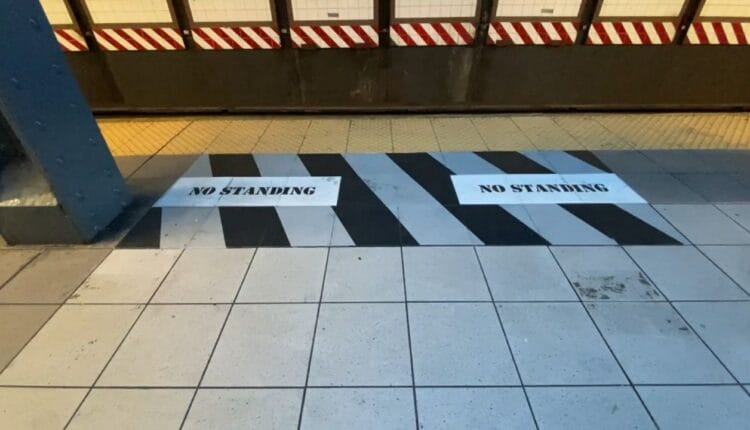 MTA conducts testing of platform decals to enhance conductor safety
New York City Transit Authority (MTA) and union representatives have initiated a trial of platform decals near conductor windows at the 125th Street and Lexington Avenue station. The objective of this measure is to prevent instances of physical attacks or verbal abuse directed at conductors by subway riders. By establishing a physical barrier between passengers and conductors, MTA aims to create a safer environment for its employees.
Demetrius Crichlow, the senior vice president of subway for New York City Transit, explained the rationale behind the initiative, stating, "The thought process was, if we could create a distance for conductors as the train enters the station, where customers do not stand, it gives a level of comfort to the conductor."
During a visit by NY1 to the station, some individuals were observed standing on the platform decals. However, the majority of conductors participating in the pilot project reported that passengers complied with the signage. Crichlow noted, "They'll still address customers for customer service. They will still have to lower the window, but it does give them the level of alertness that there might be a potential thing that they need to be aware of."
MTA officials have recorded an increase in assaults on conductors at the 125th Street and Lexington Avenue station, which prompted the development of this decal concept. The idea emerged from a worker safety panel comprising representatives from New York City Transit and various unions.
Regular commuters who rely on conductors for assistance and personal safety expressed their support for the platform decals. Melvina Hasell, a commuter, stated, "You stand there for questions or you need your safety. If someone is bothering you, they can call for help." Another commuter, Mike Benyah, emphasized the significance of the safety precaution, saying, "It's a safety precaution that I think everyone needs, and it makes riding on the subway very safe."
John Chiarello, the safety director for Transport Workers Union Local 100, hopes that the decals will discourage passengers from standing too close to conductors. He acknowledged, "I think it's gonna make customers aware that this position should not be crossed. 'Can it stop anybody?' Obviously not, because it's only a decal on the floor, but the indications I'm getting from the field are that people are acknowledging or seeing this particular off-limits area."
In addition to the platform decals, MTA and union officials are exploring other safety measures, such as procuring buses equipped to maintain a physical separation between bus drivers and passengers, as well as implementing deescalation training for staff members. These efforts reflect the commitment of MTA and its partners to enhance the well-being and security of both employees and commuters.