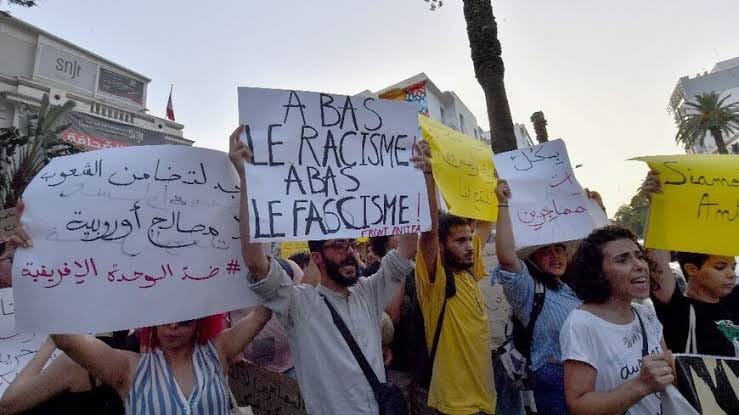 Tunisia rights groups urge aid, shelter for stranded migrants
Tunisian rights groups called on Friday for emergency aid and shelters for migrants expelled from Sfax last week, as dozens of people protested in Tunis in support of their plight.
Hundreds of migrants fled or were forced out of Tunisia's second-largest city after racial tensions flared following the July 3 killing of a Tunisian man in an altercation between locals and migrants.
The port of Sfax is a departure point for many migrants from impoverished and violence-torn countries seeking a better life in Europe by making a perilous Mediterranean crossing, often in makeshift boats.
Hundreds of migrants were forcibly taken to desert and hostile areas bordering Libya and Algeria after the unrest in Sfax.
Romdane Ben Amor, spokesperson for the Tunisian Forum for Economic and Social Rights (FTDES), told reporters on Friday that between 100 and 150 migrants, including women and children, were still stuck on the border with Libya.
He said about 165 migrants abandoned near the border with Algeria had been picked up, without specifying by whom or where they were taken.
"Migrants are transferred from one place to another while other groups hide out in the wild in catastrophic conditions for fear of being detected and suffering the same fate as those stranded on the borders," Ben Amor said.
He called for emergency accommodation to be given to the migrants and said the authorities must send "a clear message" to Tunisian citizens to help them, regardless of their status.
Around 100 protesters demonstrated Friday evening in Tunis at the call of an anti-fascist coalition, expressing their "solidarity with undocumented migrants".
The demonstrators also slammed Tunisia's police for "expelling you (migrants) and repressing us".
"Tunisia is African. No to racism, down with fascism," they chanted.
Meanwhile, the head of a Cameroonian association claimed police had carried out "arbitrary arrests" of sub-Saharan Africans around the train station in Zarzis, south of Sfax.
"Around 300 have been arrested… just because of their skin colour," said Eric Tchata, who posted online a video taken by a fellow Cameroonian purporting to show a group of people, including women and children, packed into a warehouse in Medenine, also south of Sfax.
'Blank cheque' for violence –
Ben Amor expressed fears that migrants could die if they are not immediately given aid and shelter, noting that the bodies of two had already been found.
Human Rights Watch has said the migrants had been left to fend for themselves without water or shelter in the border regions, where temperatures surpass 40 degrees Celsius (104 Fahrenheit).
Tunisia saw a rise in racially motivated attacks after President Kais Saied in February accused "hordes" of migrants from sub-Saharan African countries of bringing violence, alleging a "criminal plot" to change the country's demographic makeup.
The president's remarks "gave people the green light to do what they liked to migrants", said Naila Zoghlami, head of the Tunisian Association of Democratic Women.
Speaking to reporters alongside Ben Amor, she said women from sub-Saharan African countries have become more "vulnerable" since Saied's remarks, with several saying they have been raped.
On Friday, Saied added that what Tunisia offered migrants "is better than what they find elsewhere."
"But we refuse to be a land of transit or a land of settlement."
He also doubled down on claims that Tunisia was a victim "of criminal networks of trafficking in human beings".
Ben Amor dismissed Saied's remarks, saying, "Expelling children and women is not a lesson in humanity" as the president had said.
Around 28 non-governmental organizations, both local and international, as well as trade unions and political parties also criticized Saied in a Friday statement.
His speech "spurred crime" and only served as a "blank cheque" for some to carry out "serious violence" against migrants, they said.
On Sunday, a high-ranking European delegation is due to visit Tunis to sign a deal stipulating financial aid for the North African country aimed at tackling illegal migration.
©️ Agence France-Presse