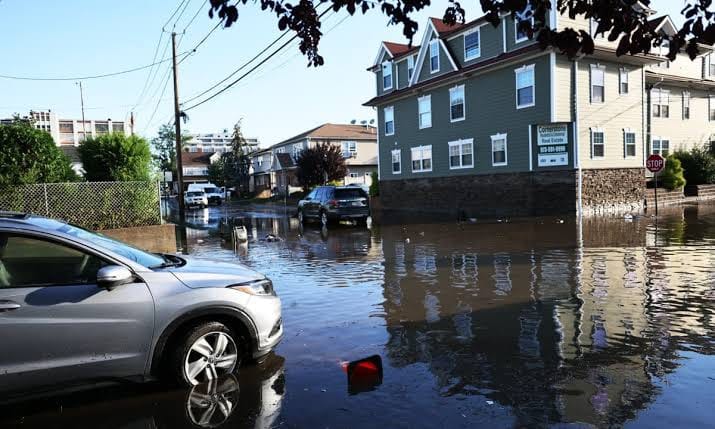 Flooding claims lives, disrupts Northeast as heavy rains persist
The Northeastern region of the United States was hit with another round of torrential rains on Sunday, exacerbating the already saturated ground and resulting in flash flooding, flight cancellations, and power outages. Tragically, Pennsylvania experienced a sudden and devastating flash flood late Saturday afternoon, leading to the loss of at least four lives.
Authorities in Upper Makefield Township, Bucks County, Pennsylvania reported that the Washington Crossing area was engulfed by heavy rains at approximately 5:30 p.m. on Saturday. The downpour caused severe flooding, sweeping away multiple cars. As a result, four individuals lost their lives, and three others, including a 9-month-old baby and a 2-year-old toddler, are still missing.
Other parts of the East Coast, such as Vermont, also faced intense rainfall. Authorities in Vermont expressed concerns about potential landslides due to the continuous rain following days of flooding. Vermont Governor Phil Scott urged residents to remain vigilant and prepared for flash flood warnings throughout the state.
The impact of the storms was also felt in the New York City area, where hundreds of flights were canceled at airports. Newark Liberty International Airport in New Jersey alone saw over 350 flight cancellations, and Kennedy International Airport in New York had over 280 cancellations. Additionally, flight delays were reported, causing significant disruptions for travelers.
The National Weather Service issued flash flood warnings and tornado watches for various areas, including parts of Connecticut, western Massachusetts, Vermont, and New Hampshire. An area along the Massachusetts-New Hampshire border was placed under a tornado warning.
Widespread power outages were reported across the region as a result of the storms. New York Governor Kathy Hochul advised people to stay home and avoid driving until the severe weather subsided. Fortunately, there were no immediate reports of injuries in the state.
Governor Hochul highlighted the significant rainfall in Suffolk County on Long Island, where 5 inches (13 centimeters) fell within a span of two hours. She emphasized the importance of caution during flash floods, as they can quickly turn a seemingly safe car into a perilous trap.
Governor Hochul also announced that road and dam integrity assessments were underway to address the damage caused by flooding. The state had already incurred $50 million in damages from storms the previous week, leading to disaster declarations covering multiple counties.
In response to the severe weather, the emergency operations center was activated in Manchester, New Hampshire, the largest city in northern New England. Mayor Joyce Craig and other officials urged residents to stay indoors whenever possible.
Flash flooding and road closures were reported in several Connecticut towns, including New Haven, Hartford, and Waterbury. Tweed New Haven Airport had to close its terminal due to flooding, causing delays for multiple flights.
In northern New Jersey, heavy rain and flooding caused road closures and damage to infrastructure. Some roads were impassable due to fragmented concrete, and a rockslide obstructed passage along Route 46.
The flash flood in Pennsylvania's Upper Makefield Township was described by Fire Chief Tim Brewer as an unprecedented event. Approximately 6 1/2 to 7 inches of rain (about 18 centimeters) fell in just 45 minutes, leading to the swift rise of water levels. While rescue efforts managed to save eight people from their cars and two from the creek, three vehicles were swept away, and their occupants remain missing.
Despite ongoing search efforts involving around 150 people throughout the night and an additional 100 on Sunday, officials expressed concerns that the operation had shifted from rescue to recovery mode.
Meanwhile, Vermont continued its recovery from heavy precipitation in recent days. Numerous state roads remained closed, partially open, or damaged, along with several bridges and rail lines.
The United States faced not only heavy rainfall but also extreme weather conditions elsewhere. A scorching heat wave affected the Southwest, with approximately one-third of Americans under heat watches or warnings. Death Valley, located along the California-Nevada border, experienced brutal temperatures, and Las Vegas was on the verge of breaking all-time record temperatures.
Furthermore, air quality alerts were issued by the U.S. Environmental Protection Agency for multiple states due to smoke from Canadian wildfires. Governor Hochul anticipated additional air quality alerts for parts of northern and western New York state as a result of the wildfires.
The National Weather Service warned of thick concentrations of Canadian wildfire smoke affecting the Great Lakes, Midwest, and northern High Plains regions.