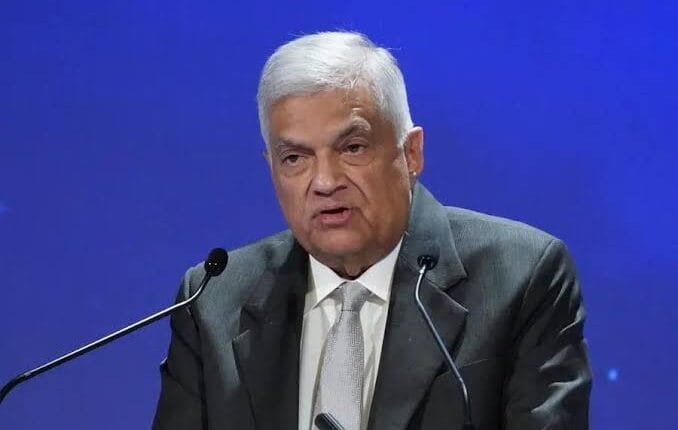 Sri Lankan leader seeks to disarm India's China fears
Sri Lanka's president arrives in India on Thursday for his first visit to the regional powerhouse, with concerns mounting in New Delhi over China's increasing influence in the strategically placed but financially bankrupt island.
New Sri Lankan leaders usually travel to India within a few weeks of taking office, but Ranil Wickremesinghe's trip comes exactly a year after he became president following the toppling of his predecessor at the height of an unprecedented economic crisis.
As Sri Lanka drifted towards chaos with daily street protests over shortages of food, fuel and medicines, India poured nearly $4 billion in aid to restore supplies and stabilize the island.
The loans and credit lines were granted despite Sri Lanka defaulting on its $46 billion foreign debt and losing access to international financial markets.
"Without India's help Sri Lanka could have degenerated into anarchy," said political commentator Victor Ivan.
"The president will not only have to show gratitude, but reassure that we will not do anything to hurt them," he added.
"At the same time, Sri Lanka can't drop China because they are also a very important economic partner."
China is Sri Lanka's biggest bilateral creditor and a Chinese firm acquired a 99-year lease on the southern port of Hambantota after Colombo was unable to repay a huge loan from Beijing to build it.
A $1.4 billion land reclamation project next to Colombo port — the biggest-ever foreign investment in Sri Lanka — has raised Indian fears that Beijing could use it as a listening post. Initially some of it was to have been Chinese sovereign territory.
Sri Lanka lies halfway along the main international shipping route between Europe and East Asia, with Colombo and Hambantota the only deep sea ports between Dubai and Singapore.
New Delhi sees the region as its backyard, and officials have been alarmed by Beijing's activities.
As part of its Belt and Road Initiative, China has also struck other infrastructure deals with countries around the Indian Ocean, including the Maldives, Bangladesh and Djibouti, where it has a military base.
New Delhi raised concerns when a Chinese research vessel, Yuan Wang 5, sought permission to dock at Hambantota in August.
The port call by what India describes as a spy ship went ahead. Sri Lanka responded by asking China not to carry out any "scientific research" while in Sri Lankan waters.
Local political columnist Kusal Perera called the Yuan Wang 5 spat an "aberration".
"One such incident will not decide the fate of the entire relationship with India," he said, adding that Indian businesses were also seeking to expand their presence in the island.
Wickremesinghe sought to address India's fears during a visit to France last month, dismissing speculation about Chinese military bases in Sri Lanka.
"No, we have no military agreements with China," he told the France24 TV network. "There won't be any military agreements. I don't think China enters into one.
"We are a neutral country, but we also emphasize on the fact that we cannot allow Sri Lanka to be used as a base for any threats against India," he added.
Wickremesinghe will be the fourth Sri Lankan president to be hosted by Indian Prime Minister Narendra Modi.
He was elected by parliament to serve the remaining two-and-a-half years in the term of Gotabaya Rajapaksa, who stepped down following protests over mismanagement of the economy.
But the Indian establishment has often viewed six-time prime minister Wickremesinghe's pro-Western United National Party with suspicion.
"Debt restructuring will be on the agenda along with connectivity," said a senior diplomatic source, adding New Delhi would be keen to speed up infrastructure projects hit by bureaucratic delays.
Sri Lanka requires agreement from all its creditors, including India and China, on debt restructuring.
Colombo has proposed haircuts of up to 30 percent and a repayment freeze extending to nine years.
The second tranche of some $330 million out of a $2.9 billion IMF bailout is due in September — subject to Colombo securing a deal with its lenders.
Wickremesinghe said last month that he was "very confident" China would be on board and Colombo would be able to unlock the remainder of the IMF bailout.
In October, he is due to travel to China for the first time as president.
©️ Agence France-Presse