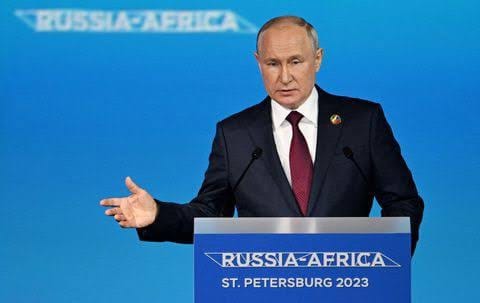 African leaders urge Putin to act on grain deal, Ukraine peace plan
African leaders have came together to address critical issues with Russian President Vladimir Putin. The summit's agenda focused on two key topics: the resumption of a grain export deal between Russia and Ukraine and the pursuit of a peace plan to end the ongoing war in Ukraine.
The grain deal, which allowed Ukraine to export its grain through Black Sea ports despite the conflict, was unilaterally terminated by Moscow last week. Egyptian President Abdel Fattah al-Sisi, a significant buyer of grain through the Black Sea route, emphasized the urgency of reinstating the agreement. He stressed the importance of reaching an agreement to revive the deal, which plays a crucial role in stabilizing food prices in the region.
While the leaders were not overtly critical of Russia, their interventions served as poignant reminders of the profound concerns within Africa regarding the consequences of the Ukrainian conflict on food security and prices. Congo Republic President Denis Sassou Nguesso urged Putin and his fellow African leaders to give the African peace initiative the attention it deserves, calling for the swift restoration of peace in Europe.
In response, President Putin attributed the surge in global food prices to Western policy errors predating the conflict in Ukraine. He pointed out that Russia withdrew from the Black Sea grain agreement because it felt the poorest countries were not benefiting, and the West was not upholding its end of the bargain. Russia's withdrawal from the deal resulted in airstrikes on Ukrainian ports and grain depots, leading to accusations from Ukraine and the West of using food as a weapon of war and further exacerbating grain prices worldwide.
During the summit, Putin also sought to enhance Russia's ties with Africa, pledging increased trade and investment as part of his strategy to counter a perceived U.S.-dominated global order. To foster diplomatic relations, he announced the delivery of free Russian grain to six African nations in the coming months.
Regarding the African peace proposal for Ukraine, Putin acknowledged its existence and stated that Russia was carefully studying it. However, the Russian president had previously given a lukewarm response to the plan when presented by a group of African presidents a month earlier. Russia has maintained its willingness to engage in talks but insists on considering the "new realities" on the ground, where it controls a substantial portion of Ukrainian territory.
Ukrainian President Volodymyr Zelenskiy has staunchly rejected the idea of a ceasefire that would leave Russia in control of occupied land, fearing it would grant Russian forces time to regroup.
As the summit progresses, African leaders and Putin continue to navigate the complexities of the grain deal and the peace plan, seeking common ground and resolution to these pressing issues affecting both regions. The outcome of the talks remains uncertain, and the world watches closely for any breakthroughs or further developments.