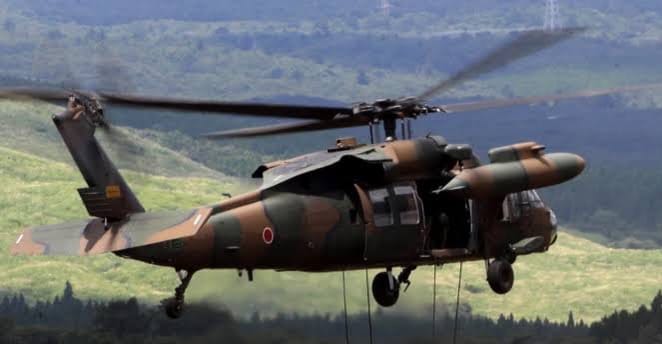 Debris found from downed Australian military helicopter
Australian police said Saturday that debris had been found from an Australian military helicopter that crashed into the Pacific Ocean, but there was still no sign of four missing crew members after a night and day's search.
Militaries from at least three nations have joined police in looking for the crew of an MRH-90 Taipan that went down late Friday night in subtropical waters off the northeast coast of Australia.
The chopper had been taking part in the large-scale Talisman Sabre exercise, which brings together 30,000 military personnel from Australia, the United States and several other nations.
It ditched into the water near the Whitsunday Islands while taking part in a nighttime operation.
"We have located a number of items of debris that would appear to be from the missing helicopter," said Queensland Police Superintendent Douglas McDonald.
He insisted hope had not yet faded for finding the crew alive, saying "at this time it remains a search and rescue operation".
But with the search entering a second night, fears are growing for the fate of the four missing Australian personnel.
McDonald said that on Sunday helicopters, planes and boats from the Australian, Canadian and US militaries would be joined by underwater divers.
The incident has shocked top Australian officials, who had been hosting US Defense Secretary Lloyd Austin and US Secretary of State Antony Blinken in nearby Brisbane on Friday and Saturday.
The incident was, according to Australian Foreign Minister Penny Wong, a "stark reminder of the risk that the men and women who serve us take, and the courage that they show every day in the service of their country."
While both Australian and US officials expressed concern about the incident, they insisted drills were needed to ensure both militaries were "match fit".
After a brief pause in the Talisman Sabre operations on Saturday, some drills resumed away from the crash site.
"It's always tough when you have accidents," Austin said. "But the reason you train to such a high standard is ultimately so you can protect lives."
Even before the incident, Canberra had announced it would replace its fleet of aging Taipan helicopters with US-made Black Hawks.
Australian officials have complained about having to repeatedly ground the European-made Taipans, citing difficulties with maintenance and getting spare parts.
"We just haven't got the flying hours out of the Taipan that we need. We are confident we can get that from the Black Hawks," Defense Minister Richard Marles said in January.
In March, an MRH-90 Taipan flying south of Sydney suffered engine failure during a nighttime training exercise, forcing the crew to ditch into the ocean.
They survived with only minor injuries, but the entire Taipan fleet was grounded for one month.
©️ Agence France-Presse