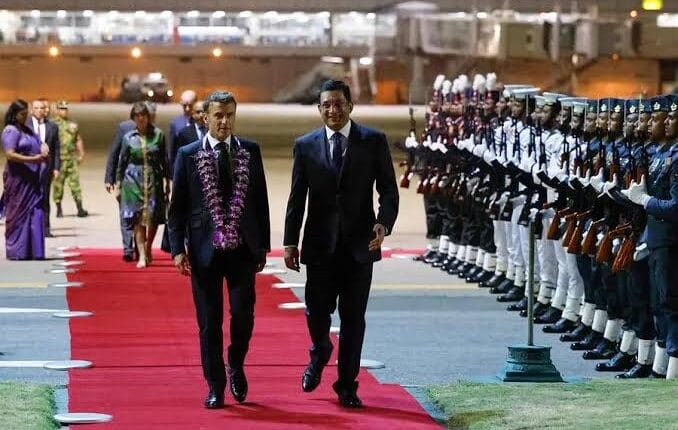 Macron makes 'historic' stop in Sri Lanka
Emmanuel Macron made a short stopover in Sri Lanka on Friday, the first visit by a French president to the island nation, which is undergoing a difficult economic recovery.
The French leader, who spent less than two hours in the country, was welcomed by his Sri Lankan counterpart Ranil Wickremesinghe.
Macron made the stop en route home from Oceania, after visiting Papua New Guinea, the French territory of New Caledonia and the sea-threatened archipelago of Vanuatu.
During the airport meeting, Macron and Wickremesinghe were to talk about economic recovery and maintenance of the rule of law.
"This is a historic visit," the Elysee said of the meeting, which occurred after Macron disembarked around 11:30 pm local time (1800 GMT).
Wickremesinghe came to power a year ago after his predecessor fled the country, driven out by massive protests amid the country's worst economic crisis since independence in 1948.
Sri Lanka, which has received major support from the IMF, is expected to remain bankrupt until 2026.
Macron was to speak with Wickremesinghe about the country's debt restructuring — with Beijing, the country's main creditor, having agreed in March to reschedule its loan repayments.
China and India vie for influence in economically fragile Sri Lanka.
The situation prompted Macron to warn against "new imperialism" at work in the region while he was in Vanuatu, referring in particular to China's growing influence.
©️ Agence France-Presse