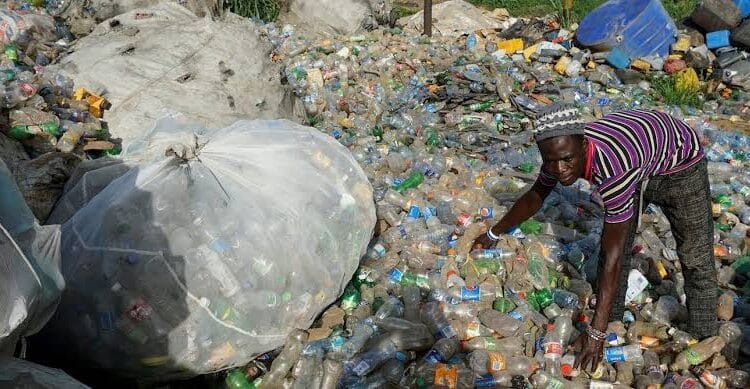 Uganda's Edu-Plastics takes innovative strides in tackling plastic waste crisis
The mounting issue of plastic pollution has prompted a new approach to combat the problem in Uganda. Despite several attempts to ban plastic since 2009, its usage shows no signs of waning. Disturbingly, more than 50% of plastic waste ends up in open land, waterways, lakes, or parks, as revealed by Ugandan environmental authorities.
Addressing this dire situation head-on, Edu-Plastics, a pioneering plastic recycling company, has emerged with a unique vision. The founder, Shamim Naluyima, emphasizes the urgent need for increased recycling in Uganda, stating that the current recycling rate stands at a mere 1%. While numerous companies continue to produce plastic, the recycling sector remains limited, leaving the issue largely unaddressed.
Edu-Plastics' mission is to rid the environment of plastic waste by transforming discarded plastic bags into functional school bags. The process involves washing, drying, and ironing the bags before sewing them into sturdy school bags, each displaying a label that proudly proclaims: "By owning me, you have helped in upcycling 15 plastic bags."
Naluyima explains their innovative process, saying, "We bring the plastic to our first production center, where we fuse it to create a sustainable material. This material is then cut and transformed into our waterproof, durable, and locally handmade school bags."
Beyond bags, the company extends its positive impact to education by manufacturing learning materials, including letters, numbers, rulers, and other resources, for schools in rural Uganda. The ripple effect of this initiative is evident as young students proudly carry their eco-friendly bags home, inspiring their families to refrain from littering plastic waste.
This progressive step by Edu-Plastics comes at a crucial time when global concerns about plastic waste have reached alarming levels. According to the Organization for Economic Cooperation and Development (OECD), if left unchecked, plastic waste is projected to nearly triple by 2060, with a meager fraction being recycled.
By championing recycling and giving plastic a second life, Edu-Plastics offers a glimmer of hope in the battle against plastic pollution. With their innovative approach, they aim to foster environmental consciousness among Ugandans and drive positive change for a cleaner and sustainable future.