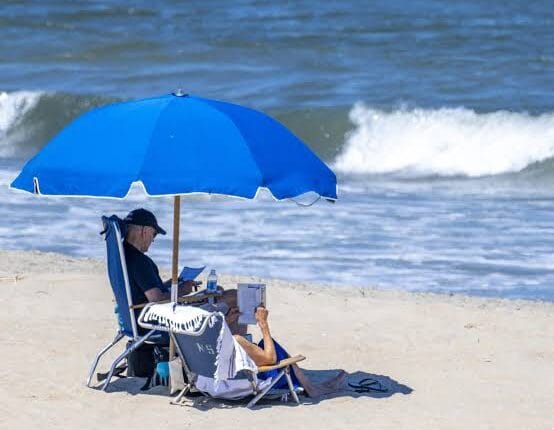 As Trump faces indictment heat, Biden chills beachside
"It was compelling," Joe Biden offered Tuesday after Donald Trump's indictment. But the US president was referring to a film — not the legal fate of his political rival, which he has declined to address.
The 80-year-old Democrat was emerging from a screening of "Oppenheimer," having dined earlier with First Lady Jill Biden at a fish restaurant in Rehoboth Beach, Delaware, the seaside escape where the couple is vacationing this week.
While Christopher Nolan's biopic tells the life of the American physicist who developed the first atomic weapon, Tuesday's historic indictment of ex-president Trump is the bombshell currently rocking American politics.
The rebellious Republican is likely to face Biden once more in 2024, even as he is criminally charged over allegedly attempting to overturn the 2020 election result.
It is the third indictment of Trump since March. They include charges over a hush-money payment to an adult film star in 2016, and his handling of classified documents after leaving the White House.
A fourth indictment could follow in Georgia, where an investigation over electoral interference is concluding.
Biden, known for impulsive remarks, has demonstrated considerable discipline when it comes to his rival's legal peril.
After Trump became the first-ever indicted former president in March, Biden repeatedly gave reporters a curt "no comment" and other dodges.
On Wednesday, as the commander-in-chief biked along a Rehoboth trail to occasional cheers from onlookers, a reporter's shouted one-word question — "Indictments?" — was met with silence.
Biden has little choice, especially given that the two gravest cases against Trump are federal prosecutions by the US Department of Justice, which Biden's aides have repeatedly stressed operates independently from the White House.
Even the slightest word from Biden would fuel charges from Trump's supporters that the president is weaponizing the judiciary.
Biden therefore is counting on the modern-day visual known as the split screen.
On one side is Trump, with his legal proceedings piling up and the bracing images of the former leader scowling as he sat in a Manhattan court this year.
It is not yet known whether Trump will appear in person for a preliminary hearing set for Thursday in Washington in the case surrounding the 2020 election.
On the other side: Biden chilling in Rehoboth, where he might hit the beach Thursday like last weekend, or take another bike ride.
Either way, it's the very image of peace of mind.
If Trump is "compelling," in one form or another, Biden — as he has described himself before — is assumed to be "boring."
In running for re-election, the current president is betting that Americans will favor calm, predictability and prosperity over potential chaos.
He soon heads west to tout "Bidenomics," his economic strategy that Republicans mocked but which he pitches as responsible for America's robust growth.
Is the US president, whose popularity ratings are far from effervescent, writing the script for an electoral blockbuster in 2024?
That remains uncertain, but Biden wants to believe that boredom — a mortal sin in moviemaking — is a virtue at the ballot box.
©️ Agence France-Presse