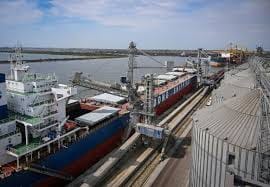 Romania Black Sea port braces for more Ukrainian grain
At the deepest berth of the Black Sea in the Romanian port of Constanta, the belly of a massive cargo ship bound for Belgium is fed tonnes of rapeseed through a huge steel hose as more vessels queue up.
Since the beginning of Russia's invasion of neighboring Ukraine, Constanta port, the largest for cereals in Europe, has been racing to adapt to the influx of grain diverted from traditional shipping routes that have been cut off by the conflict.
In the first half of 2023, it registered 7.5 million tons of Ukrainian grain compared to 8.7 million tons for all of last year.
After Moscow withdrew from a grain deal last month that allowed Kyiv to export around 36 million tons of grain despite the war, the port braces to play an even bigger role in shipping out globally vital crops.
"We are ready for a larger quantity of Ukrainian grain," said Dan Dolghin, a director at Comvex, one of the companies at Constanta that receive grain from trains, barges and trucks to load them onto ships.
Dolghin points to a 3-million-euro ($3.3 million) investment his company made last summer to speed up its barge unloading capacity.
"We can load ships with a speed of 3,000 tons an hour, which is the equivalent of two trains," he said, as he fielded constant phone calls.
Comvex also plans to grow its storage capacity in the coming months by almost 50,000 tons to close to 250,000 tons.
The company has about 3,600 tons of Ukrainian corn in its silos. Dolghin said wheat should also arrive soon.
Most of the grain handled by Comvex comes by train and on barges from the Ukrainian Danube ports of Reni and Izmail.
But these ports have also become targets: Ukraine said Wednesday that Russia had struck port facilities and industrial infrastructure on the Danube.
Russia already attacked Reni with drones on July 24, causing "quite significant" damage, according to Ukraine army spokeswoman Nataliya Gumenyuk.
Rail transfer, on the other hand, is expected to pick up, according to Dolghin.
Silos are being built so that trains from the wider-gauged Ukrainian tracks can transfer their loads to the Romanian railway system.
They are due to be completed in some weeks, Dolghin said, adding the port now has more lines for trains than last year.
Though he admitted the entrance points to the port, particularly where trucks arrive, can still bottleneck.
Like outside Ukrainian ports, long queues are forming around Constanta, with trucks mostly loaded with Romanian grain.
They have come to a standstill on the emergency lane of a highway, according to AFP journalists. Plastic bottles, coffee paper cups and empty cigarette packs litter the area.
Though queues to enter the port are not unusual at this time of year with the harvest, some of the drivers say the war has made matters worse.
"There isn't a toilet here. It's not normal. We are people after all. You remain without water, without bread," a 47-year-old, who only gave his name as Ovidiu, told AFP.
"The port is not prepared to receive the amount of incoming products," he added.
Another driver, 50, who only gave his first name Cristian, said his truck hadn't been able to move for hours.
Like in Bulgaria, Hungary, Poland and Slovakia, Romanian farmers have protested against Ukrainian grain imports since the EU dropped duties in the wake of the war to help Kyiv maintain vital revenues.
In June, Brussels agreed to allow the five countries to restrict imports of grain from Ukraine through September, which they want to extend longer, drawing the ire of Kyiv.
Truck drivers in the queue mostly blame the port's poor organization for the current bottleneck, whereas the Constanta Port Authority points to the companies working in its facility for not respecting their capacities.
It plans to launch an app later this month to organize the trucks better, including allowing reservations.
©️ Agence France-Presse