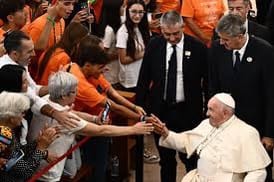 Pope heads to Portugal's Fatima shrine
Pope Francis will make a lightning visit to the shrine of Fatima in central Portugal on Saturday as part of a major Catholic youth festival.
The 86-year-old pontiff, who arrived in Lisbon on Wednesday, will fly by helicopter to the town located 150 kilometres (90 miles) north of the Portuguese capital.
He will recite the rosary with sick and disabled youths at a shrine built on the very spot where the Virgin Mary is said to have appeared to three shepherd children in 1917.
Francis is also scheduled to deliver a speech at the shrine before he returns to Lisbon, where on Saturday evening he will lead a vigil at the waterfront Parque Tejo.
Church organizers expect one million faithful will attend the vigil at the park that has been built for the occasion on a former landfill site.
Massive crowds are also expected to turn out in Fatima to see the pope, who visited the shrine in 2017 on the centenary of the reported apparitions.
Thousands of worshippers had already gathered in Fatima on Friday on the eve of the pope's arrival, many setting up folding chairs in the shrine's vast square to mark their spot.
Worshippers roamed around the square, singing hymns, beating drums and waving national flags.
"I'm delighted to be here, we are really looking forward to see the pope," David Keating, a 41-year-old plumber who came from Britain with a group of youths, told AFP.
Fatima draws millions of pilgrims from around the globe, making it one of the world's most visited shrines devoted to the Virgin Mary.
Many walk to the town and some complete the final stretch on their knees to demonstrate their devotion.
Others toss wax limbs or organs into a fire beside the chapel as they recite prayers for healing.
The shrine contains dozens of shops where souvenirs are sold alongside rosaries, bibles and assorted images of the Virgin Mary.
Susana Marino, a 48-year-old Portuguese psychologist, said she had come to Fatima because "it really will be the last chance we have to see the pope".
The pope, who is in increasingly fragile health, and now uses a wheelchair or walking stick to get around, spent nine nights in hospital after undergoing hernia surgery in June.
He has received a enthusiastic welcome throughout his visit in Portugal for World Youth Day, which is in fact a six-day international Catholic jamboree.
Half a million young people chanted, cheered and shouted on Thursday as they packed a Lisbon park for an official welcome ceremony for the pope.
Francis will deliver a Mass on Sunday on the last day of his visit at the Parque Tejo when a heatwave is expected to peak, with temperatures forecast to soar to 39 degrees Celsius (102.2 Fahrenheit).
Local authorities have repeatedly urged pilgrims to drink plenty of water.
Registered participants received rucksacks containing reusable water bottles and sunhats, along with a rosary.
World Youth Day, created in 1986 by John Paul II, is the largest Catholic gathering in the world and will feature a wide range of events, including concerts and prayer sessions.
This edition, initially scheduled for August 2022 but postponed because of the pandemic, will be the fourth for Francis after Rio de Janeiro in 2013, Krakow in 2016 and Panama in 2019.
©️ Agence France-Presse