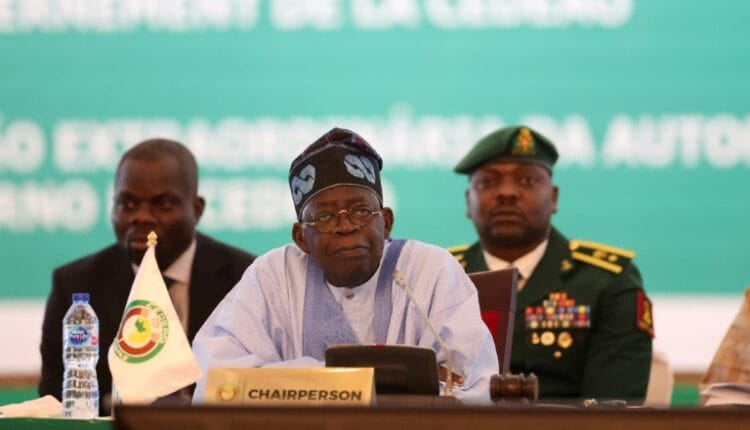 Opposition mounts in Nigeria over possible Niger intervention
Political leaders in Nigeria are urging President Bola Tinubu to reconsider a threatened military intervention against junta leaders in neighboring Niger, ahead of a Sunday deadline to reinstate the country's elected government.
As Africa's most populous country and its biggest economy, Nigeria would play a leading role in any intervention threatened by the ECOWAS regional bloc, which Nigerian President Bola Tinubu announced on July 30.
On Saturday, the country's Senate met behind closed doors to discuss the situation, and afterwards its president, Godswill Akpabio, set out their position to journalists.
"The Senate calls on the President of the Federal Republic of Nigeria as chairman of ECOWAS to further encourage other leaders of ECOWAS to strengthen the political and diplomatic options," he said.
Nigeria's constitution requires Senate approval to deploy armed forces for combat duty outside the country, unless the president determines that national security is under "imminent threat or danger".
Senators from northern Nigerian states, seven of which share a combined border of roughly 1,500 kilometers (900 miles) with Niger, have already advised against any intervention until all other options had been exhausted.
"The consequences will be casualties among the innocent citizens who go about their daily business," Suleiman Kawu Sumaila, spokesman for the Northern Senators Forum, said just after the ECOWAS ultimatum.
The northern regions have deep social and trade links with southern Niger, where local populations share many cultural, religious and linguistic heritages.
Sumaila also warned of insecurity risks if Niger is destabilized as the Sahel region battles long-running Islamist insurgencies.
"We are also aware of the situation of Mali, Burkina Faso and Libya, which may affect the seven Northern states if military force is used," he said.
Mali and Burkina Faso have warned that any regional intervention in Niger would be considered "a declaration of war" on them. Both are run by military rulers who toppled democratically elected leaders.
Sumaila warned that there would be serious implications for the country "if military force is used without exhausting all the diplomatic channels".
Those concerns were shared by the country's largest opposition grouping, which denounced the potential military operation in Niger as "absolutely thoughtless".
"The Nigerian military have been overstretched over the years battling terrorism and all manners of insurgency that are still very active," the Coalition of United Political Parties said Saturday.
Besides insurgency groups in the northeast, Nigeria's security forces are battling organized crime gangs in the centre and northwest, and separatist groups in the southeast.
The country has also plunged deeper into economic hardship with Tinubu's decision to end fuel subsidies last May.
His goal was to free up funds for investment, in agriculture and social programs in particular. The immediate result however was a quadrupling of fuel prices for a country where nearly half the population is estimated to live in extreme poverty.
"Nigeria, in its current socioeconomic state, cannot afford such a costly intervention," the coalition argued.
"President Bola Tinubu should avoid plunging Nigeria's fragile economy into more depression by intervening militarily in another country."
A potential Niger intervention has also been criticized on social media in Nigeria, with users voicing concern about the roughly 200,000 Nigerian refugees who have fled jihadist violence to seek shelter in Niger.
Others worry about a potential influx of refugees from Niger, which could further strain the humanitarian crisis facing much of Nigeria's north.
by Camille MALPLAT with Aminu ABUBAKAR
©️ Agence France-Presse